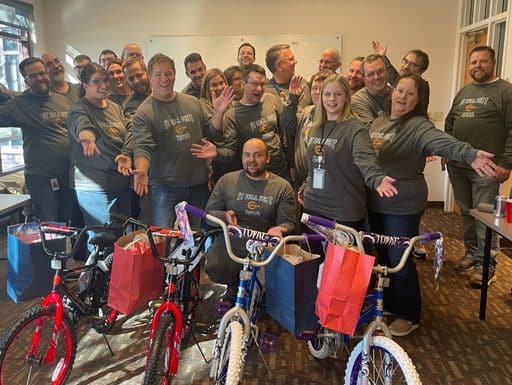 On days like this, where my energy feels drained, I envy remote work options. Inclusa staff decided to change their routine up a bit. Staff participated in our Build-A-Bike® team event in person.
Employees enjoyed the change of pace and the opportunity to interact offline. Inclusa has headquarters in Stevens Point, a city just two hours outside of Green Bay. They use a unique approach to long-term care services. Their values-based organization provides customers a person-centered and community-focused approach. Additionally, Inclusa supports 68 of Wisconsin's counties and has offices with a truly local presence.
Stevens Point Build-A-Bike® with Inclusa
A day of fun and heart-felt do-good merging together. Inclusa's remote staff joined in person (and quite enthusiastically). During their meeting, attendees built camaraderie and better rapport among coworkers. Our instructor, Candace Cox, guided staff members and split them into teams. She helped them break some of the communication barriers that pop up by intermingling people with others they don't normally work with. Each team received clues, worked through to answer the clues, and received judgments about those answers. Next, those answers earned a bike part or the need to return to the drawing board.
Ultimately, teams assembled bikes. The beautiful, brand-new bikes were donated to a local Boys & Girls Club.