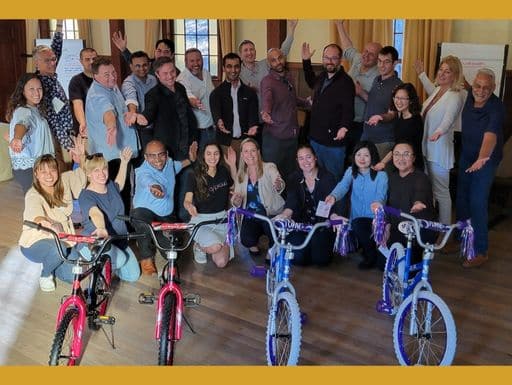 Take a stroll with me over the Golden Gate Bridge. Enjoy the views and make new connections with coworkers! Ultragenyx took that advice and ran with it. Staff completed one of our team-building activities this month.
Ultragenyx is a biopharmaceutical company committed to the research and development of products to treat ultra-rare illnesses. This provides treatment for diseases that typically have no approved medical options or high unmet needs.
California team builds bikes
After a full day of team building, Ultragenyx staff amplified their bonding and camaraderie. To match their belief in giving back, attendees wanted to build bikes and donate them to the local community. Scott Hubbard, our instructor, was very intentional about each activity chosen and implemented. His purposeful creation of each group helped break communication barriers and open up new perspectives.
Each team perused through and answered various riddles. Each riddle offered the chance for members to earn a bike part. Once collected, each group assembled a brand-new bike. The ultimate cherry to end the event was the donation itself. Play Marin accepted the bikes. They can't wait to incorporate the bikes into their mission of equitable play for all kids.