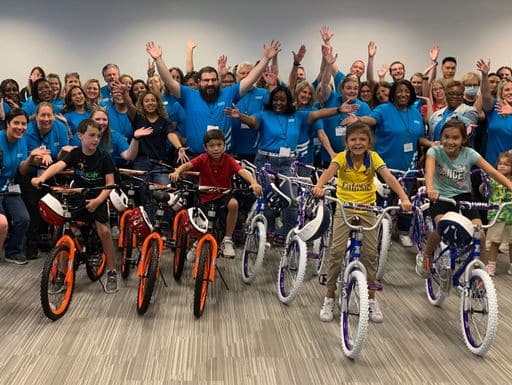 Recently our instructor, Colleen Staneart, had the pleasure of hosting a Build-a-Bike event for Insperity's HR and payroll staff. Insperity is a professional employer organization that provides human resources and administrative services to small and medium-sized businesses. They had Colleen go to their Irving office to lead a fun, meaningful event during one of their annual meetings.
The staff was really high energy and welcoming. Throughout her set up, Colleen received greetings again and again from friendly faces. Insperity's shining optimism proved to be such a delight throughout the event. As compared to some of the groups I worked with in the past, this team was less competitive and more just along for the ride. They passed the vibe check and were happy to spend time with each other while supporting a great cause.
Insperity makes Heartfelt Donation of Bikes
In the end, Insperity assembled and donated 14 bikes to a local charity called HopeKids. HopeKids provided services to families who are experiencing a child with a life-threatening disease. We had a few of the children who were designated to receive bikes come down to meet the group and test drive their new rides. A great surprise for us was that their parents accompanied them and brought the crowd to tears with their gratitude. A meet and greet with the amazing kids and parents from HopeKids was an amazing way to close out this happy event.