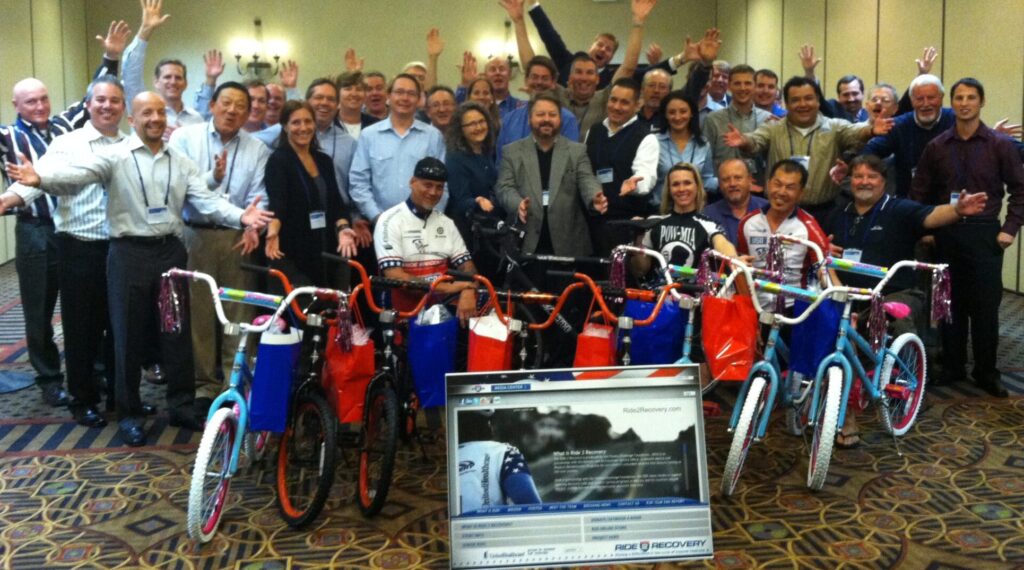 Linde completed a third Build-A-Bike workshop for it's Supply, Transport and Sales Managers near San Francisco, California recently. This was the third Build-A-Bike reg; workshop in a series of four events being held at each of their regional headquarters around the country this fall. The Linde Group is a world-leading supplier of industrial, process and specialty gases and is one of the most profitable engineering companies. Linde products and services can be found in nearly every industry, in more than 100 countries. Linde has more than 50,500 employees working in more than 100 countries worldwide. They are gathering the managers in the four regions for their annual conference and included Build-A-Bike reg; as a way to keep their commitment to the communities where they work by donating bikes to local children.
Throughout the event, there was a lot of energy and a strong air of competition! The initial activities presented opportunities for the teams to interact with each other and test their memory skills. The group was also challenged to step outside of their comfort zones and think quickly on their feet.  Everyone had a great time cheering for each other and showing off their creative sides.
Linde Participants Abandon Work Together to Build Bikes for Kids in San Francisco.
The main portion of the program required the participants to abandon their competitiveness and work together to gain knowledge and resources in order to be successful. Skeptical and a little reluctant to share what they each had at first, eventually everyone adopted a spirit of cooperation, and together they were able to build 8 bikes for kids.
Linde is very invested in our military veterans and wanted this event to demonstrate their commitment to that community. They chose to donate the bikes to Ride 2 Recovery, a veterans program that using cycling as a way to help veterans readjust to life outside of the military while healing their minds and bodies through exercise. As vets can often become disconnected from their families as a result of PTSD, the group felt the donation of children's bikes would help give families an opportunity to do cycling together. Linde also donated two adult bikes to the program. The representatives who spoke told personal and moving stories of their own experience with this powerful program and how it has helped them personally.
"Another great event! The impact these workshops are having on our folks is huge." — Tracy Pelaia, Linde
Everyone likes to have fun, and everyone likes to make a difference to children in their communities. Build-A-Bike is a great way to combine the two and add a new dimension to any corporate gathering.
| | |
| --- | --- |
| | Ellen Patnaude is Vice President of Instruction for the Northeast region. She is based in Detroit, Michigan, but she also teaches in Chicago, Cincinnati, Columbus, Toronto, Baltimore and other Northeast cities. |
For details about Team Building in San Francisco, California, click here.