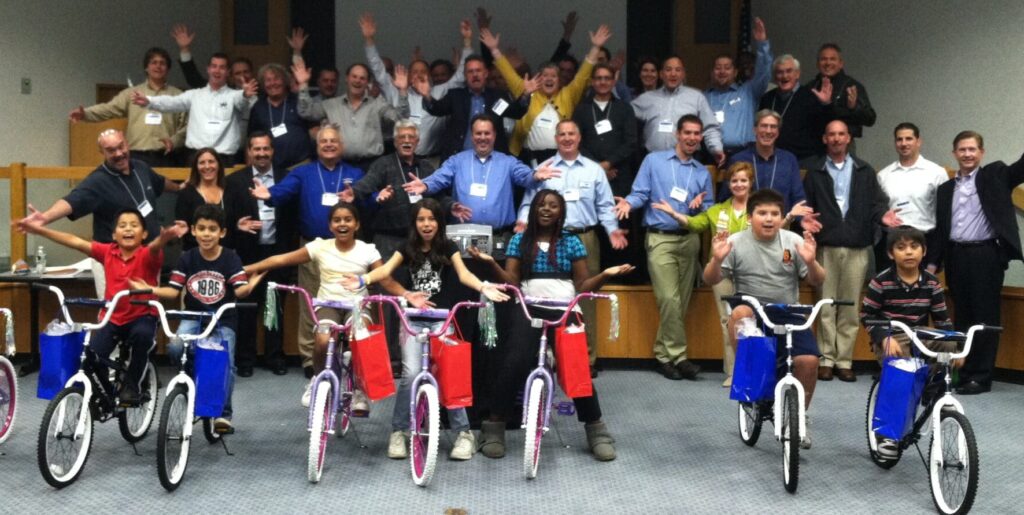 Linde hosted a Build-A-Bike ® a workshop for its Supply, Transport and Sales Managers near Newark, New Jersey recently. This was the second Build-A-Bike ® event in a series of four events to be held at each of their regional headquarters around the country this fall. The Linde Group is a world-leading supplier of industrial, process and specialty gases and is one of the most profitable engineering companies. Linde products and services can be found in nearly every industry, in more than 100 countries. Linde has more than 50,500 employees working in more than 100 countries worldwide. They are gathering the managers in the four regions for their annual conference and included Build-A-Bike as a way to keep their commitment to the communities where they work by donating bikes to local children.
Build-A-Bike ® uses a series of challenges and exercises to encourage team building. Meant to be something of a caricature of behavior we can see in the workplace, the participants have a good time poking fun at themselves and each other as they move through the exercises together. This group enjoyed the challenges together as they brought out their competitive sides. In the end, they collaborated successfully and were able to build their bikes.
Linde Schedules a Build-A-Bike ® in Each of Four Regions. This Is the Second Event.
They wanted to keep the impact of this event local, so they selected an organization near Newark to receive the 8 bikes that they built. Linde works with the United Way very closely throughout the year, and they used that relationship to bring children who didn't have bikes to the event to receive the donation.
"Ellen does a fantastic job. She is super dynamic, and really gets everyone engaged and having fun during the activity." — Tracy Pelaia, Linde
Groups within an organization that want to have fun while giving back to the community and emphasizing some great team building lessons can benefit greatly from Build-A-Bike. And everyone loves to see the looks on the kids' faces when they get a brand new bike! If you want to encourage team building while giving back to your local community, consider including Build-A-Bike in your next conference.
| | |
| --- | --- |
| | Ellen Patnaude is Vice President of Instruction for the Northeast region. She is based in Detroit, Michigan, but she also teaches in Chicago, Cincinnati, Columbus, Toronto, Baltimore and other Northeast cities. |