Team Building Events in Los Angeles, California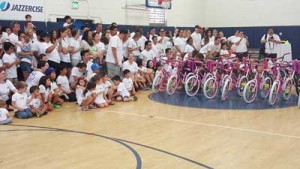 Los Angeles is our West Coast team building hub. So, if you're looking for Los Angeles California team building, you've come to the right place. All of our team building activities are available in Los Angeles. (For a complete list, click the link below.) The most popular activity in this region is the Build-A-Bike ® team building program. We have conducted this program for Los Angeles companies like Intuit, Luck Brand Jeans, and BP. In addition, other popular activities are the Ace Race ® Golf Team Building and the Camaraderie Quest. One of our favorite Camaraderie Quest scavenger hunts was conducted a few years ago at the Santa Monica Pier.
Los Angeles California Team Building Events.
The Leader's Institute – Los Angeles ®

515 S Flower St #3600
Los Angeles, CA 89119 US
Phone: (213) 986-2664




Jan 25, 2019

We truly enjoyed this dynamic training. We were engaged and interested in the... See More

Jan 24, 2019

Our entire team loved the team building event!
For More Information or to Request a Quote…
A Few Recent Los Angeles California Team Building Events.
Cerbelli Creative Fun Team Building Event for a Competitive Group The Leader's Institute ® has been partnering with event planner Cerbelli Creative for several years. So when this event planner wanted a fun team building event for a competitive group in Los Angeles, we recommended The Ace Race ® mini-golf team building event. In this event, individual teams have to work together to create a ...
Oaktree Capital Build-A-Bike Team Building Event Los Angeles, CA The Leader's Institute® recently held a Build-A-Bike® event for Oaktree Capital on a Saturday morning in Los Angeles, CA. Participants came out to Pasadena to do this bike team building event and build 20 bikes for the youth at the Boys and Girls Clubs. This was a family event where participants were encouraged to bring ...
Yorba Linda Unified School District Ace Race Golf Team Building For the second year in a row, The Leader's Institute® came to Yorba Linda Unified School District in Los Angeles, CA on to deliver a fun and meaningful team building event that gives back to the community. After doing a Build-A-Bike® team event last year with Chris McNeany, they asked him to come back and ...
Like this Post? Share it with Your Friends: