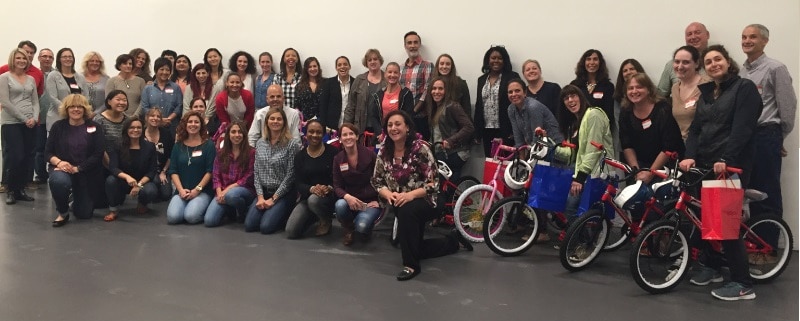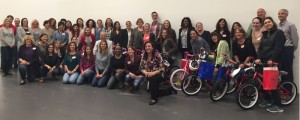 PVH Corp. is an American clothing company which owns brands such as Tommy Hilfiger, Calvin Klein, Van Heusen, IZOD, Arrow, and licenses brands such as Geoffrey Beene, BCBG Max Azria, Chaps, Sean John, Kenneth Cole New York, Joseph Abboud, and Michael Kors. The company has offices throughout the United States and sourcing facilities worldwide. Their headquarters are in New York City and administrative offices are also in Bridgewater, NJ. The Global Supply Chain Group has employees in both locations.
Recently, a survey was conducted for PVH employees within the Global Supply Chain Group for both New York City and New Jersey offices, and throughout the survey, employees expressed a desire for an opportunity to engage more frequently with coworkers. They also expressed that between work and family commitments, charity efforts often fall to the wayside.
So, when Brittany Mulholland, the Executive Assistant to the Senior Vice President of the Global Supply Chain, organized a day filled with learning, team building, and an after-hours get-together, she thought that a Build-A-Bike® team activity in New York, NY would be a perfect fit for the group!
Clothing Giant Gives Back to Community with a Charity Bike Build.
The 50-person team arrived at the Calvin Klein Look Space at 205 W 39th St, New York, NY 10018 for lunch and then a 2-hour, high-energy team building program facilitated by The Leader's Institute® Instructor, Michelle Riklan.
With permission from Joe, the SVP, the instructor was able to "poke some fun" at his expense and the mood in the room was energetic and engaging. Co-workers learned some interesting things about each other and were excited to work in small groups with individuals who they might not have known very well or ever met before.
If you want information about how your team can organize a "charity bicycle build" click this link. For a list of all of the team activity in New York City, click here.
The group assembled 10 children's bicycles that were donated to Playworks and Ronald McDonald House. Playworks is a nonprofit that supports learning and physical health by providing safe and inclusive play to low-income students in urban schools. Ronald McDonald House is a charity with a mission to create, find, and support programs that directly improve the health and well-being of children. Representatives from both groups arrived to collect the bikes and thank the team.