In our inspirational leadership series, we want to highlight leaders throughout history who altered the course of events in a spectacular way, and if you think about specific people who have influenced human history for generations, William Shakespeare is often near the top of the list. When you think of Famous Quotes, there is a good chance that a number of Shakespeare quotes come to mind. In fact my dad once laughingly told me, "Most quotes come from either Shakespeare or the Bible," and he wasn't exaggerating a whole lot. Although Shakespeare's plays and sonnets were written over 400 years ago, his works are still performed world-wide more than any other playwright, and these works have been translated into more languages than any non-religious text. He is also one of the most quoted writers in history and dozens and dozens of famous Shakespeare idioms are very common in the English language. In 1983, Bernard Levin, a journalist in London, wrote a book called Enthusiasms, and a specific paragraph from the book (that has commonly become know by the title "On Quoting Shakespeare") is a funny rendition of just how idioms from Shakespeare's plays and sonnets have become commonplace in modern dialogue. Many of these idioms are so common that we just quote them without ever wondering where the phrase came from. Below is both a textual and graphic representation of Bernard Levin's On Quoting Shakespeare:
If you cannot understand my argument and declare, "It's all Greek to me," you are quoting Shakespeare. If you claim to be more sinned against than sinning, you are quoting Shakespeare; if you recall your salad days, you are quoting Shakespeare; if you act more in sorrow than in anger, if your wish is father to the thought, if your lost property has vanished into thin air, you are quoting Shakespeare; if you have ever refused to budge an inch or suffered from green-eyed jealousy, if you have played fast and loose, if you have ever been tongue-tied, a tower of strength, hoodwinked or in a pickle; if you have knitted your brows, made a virtue of necessity, insisted on fair play, slept not one wink, stood on ceremonies, danced attendance on your lord and master, laughed yourself into stitches, had short shrift, cold comfort or too much of a good thing, if you have seen better days or lived in a fool's paradise—why, be that as it may, the more fool you, for it is a foregone conclusion that you are (as good luck would have it) quoting Shakespeare; if you clear out, bag and baggage, if you think it is high time and that is the long and short of it, if you believe the game is up and that the truth will out, even if it involves your own flesh and blood, if you lie low until the crack of doom because you suspect foul play, if you have your teeth set on edge (at one fell swoop) without rhyme or reason, then—to give the devil his due—if the truth were known (for surely you have a tongue in your head) you are quoting Shakespeare; even if you bid me good riddance and send me packing, if you wish I was dead as a doornail, if you think I am an eye-sore, a laughing stock, the devil's incarnate, a stony-hearted villain, bloody-minded or a blinking idiot, then—by Jove! it's all one to me, you are quoting Shakespeare. – Bernard Levin
Famous Shakespeare Idioms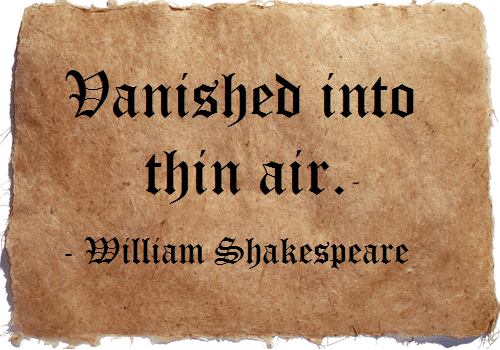 ---
Author: Doug Staneart, Date Published: October 7, 2015
Doug Staneart is president of The Leader's Institute ®. He is based in the Dallas, Texas Region. He is a specialist in corporate team building activities and custom presentation skills seminars.
More Articles Like This... leadership tips Tagged with: on quoting shakespeare • shakespeare • shakespeare idioms • shakespeare quotes

---