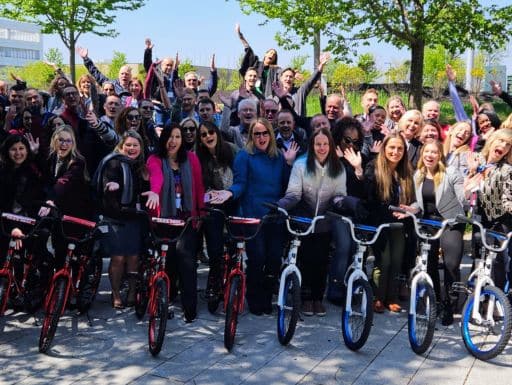 Roche Diagnostics fit a Build-A-Bike® charity event in their already packed schedule in Indianapolis, IN. Nearly 100 employees attended the event, consisting mostly of their sales team. They were excited to break up a full day of meetings and lectures with this fun team building event.
Roche has a 125-year history as a biotech company. They're now one of the world's largest, as well as a leader in providing in-vitro diagnostics and a global supplier of innovative solutions across major disease areas. Their successful track record is thanks to their focus on establishing data-based insights that help patients live longer, better lives. Roche Diagnostics is a division of Roche that focuses on developing diagnostic tests, instruments and digital solutions with the power to transform healthcare for people around the globe.
World-leading biotech company attends bike building event for charity in Indianapolis, Indiana
The Roche Diagnostics team had gathered in order to talk about new products and tactics they'd be using in the coming year. Their schedule was tightly packed, however, giving them only an hour to fit in the Build-A-Bike® event. With a bit of creativity and cooperation though, the team was able to adjust to a custom-made event that would still give them the full team building experience.
Want to give your team a fun event during their conference? Check out all of our team building games in Indianapolis, Indiana
Despite the time-crunch, the teams were able to learn the lesson of working together. They were able to build all twelve bicycles in time for their charity of choice: the American Diabetes Association.
Thank you to Roche Diagnostics and the American Diabetes Association for their contributions to the community and toward diabetes research!