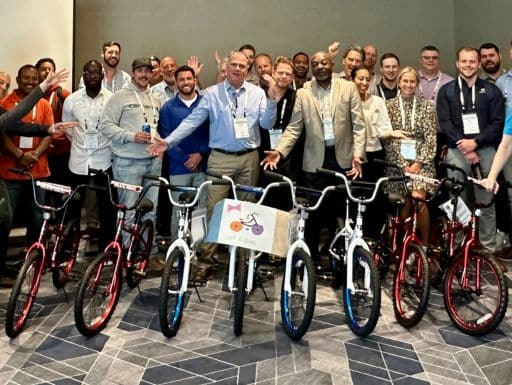 Epcon Communities added a Build-A-Bike® team building event to their conference in Nashville, TN. After a long day of meetings, the team of fifty met at the JW Marriott Nashville to begin building bikes.
Epcon Communities is a home developer that builds homes, neighborhoods, and lifestyles in over twenty states across the United States. Their mission is to provide a remarkable experience that enables their residents to live a more Livable Lifestyle. They've delivered on that promise since 1986 by integrating smart, innovative designs with modern amenities. Today, more than 30,000 families and individuals have made their homes in an Epcon community. This has made them one of the top lifestyle-rich home developers in the country, year after year.
Home development company builds bikes for charity in Nashville, Tennessee
Epcon Communities held a conference for their corporate and franchise employees. The team members who attended the Nashville gathering were mainly from their Field Ops team. After a full day of meetings, the teams were given the chance to shift gears into a fun event: the Build-A-Bike®.
The bicycle building team event separated the team of seventy into smaller groups, where they would receive a series of clues. For every clue that led to a correct answer, the teams were given a bicycle part. For every incorrect answer, however, the teams would have to go back to the drawing board. Some clues are a bit tricky and require that the teams work with each other instead of against each other as competitors.
Looking for a way to give back to your employees and to the community? Check out all of our team building games in Nashville, TN
At the end of the day, the teams were able to build all their bicycles. The Boys & Girls Club of Tennessee did the work of connecting the newly built bikes to a lucky group of children in need who would receive them.
Thank you to Epcon Communities and the Boys & Girls Club of Middle Tennessee for your hard work!