Big things happen when great companies join together during an event to share more good. Seagen employees met at Woodhouse Winery, not to enjoy the beverages or venue, but to bond together and build bikes.
Seagen is a biotechnology dedicated to developing and commercialising monoclonal anti-body-based therapies for the treatment of cancer. Wow, what a powerful mouthful! Their dream is to create cancer medicines to make a meaningful difference in people's lives. Deep seated values in integrity, scientific excellence, passion, diversity, and innovation. Seagen is a biotech leader and pioneered the "science of harnessing antibodies designed to deliver cell-killing agents." Additionally, Seagen has efforts on new small molecule therapies.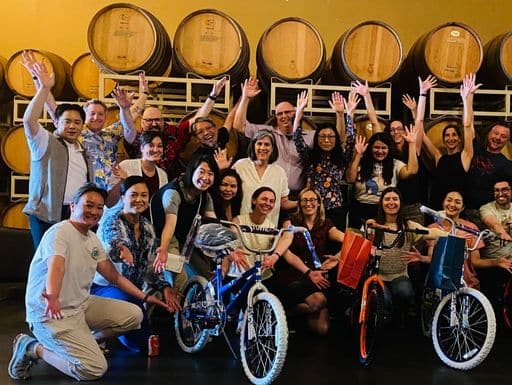 Staff explored the Woodhouse Winery during one of our Build-A-Bike® events in Washington's small town of Woodinville. They divided and conquered! Well, sort of. First, attendees created small group teams. Then, each team received a set of clues and puzzles. Once they deciphered each question, teams sent their answers to judges. Alarms of inaccuracy or bells of correctness rang out. Teams earn bike parts depending on the judge's decision.
Once they obtained all four parts, the building began. The event finished with four brand new bikes to be donated. We hope the donor recipient, students of Bailey Gatzert Elementary, enjoy their new bikes!