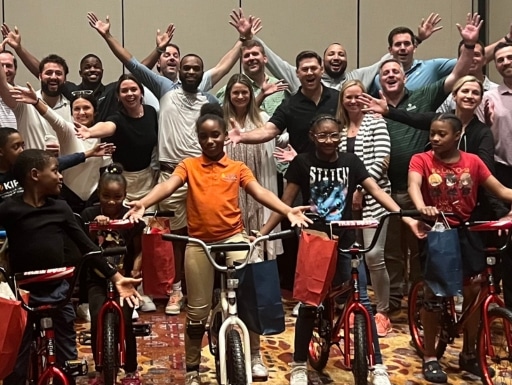 Medical technology company Stryker recently gathered for a Build-A-Bike® team building event in Nashville, TN. With 30 participants gathering at the Westin Nashville, the event served as a powerful platform for team building and giving back. The Boys & Girls Club of Middle Tennessee received the donated bicycles, creating a heartwarming surprise for eight lucky children. This event also marked a significant milestone for twenty-two leaders who reunited for the first time since the COVID-19 pandemic.
Stryker, established in 1941 by Dr. Homer Stryker, has evolved into a global leader in medical technology. With a wide range of innovative products and services in Medical and Surgical, Neurotechnology, Orthopaedics, and Spine, Stryker is dedicated to improving patient outcomes and transforming healthcare. The company's commitment to Dr. Stryker's vision ensures a culture that embraces innovation and drives positive change in the industry.
Stryker Unites Leaders and Supports Boys & Girls Club Through Build-A-Bike Event in Nashville, Tennessee
Stryker brought together thirty participants for the Build-A-Bike® event. This engaging event not only fostered team building and camaraderie among the attendees, it also provided an opportunity to give back to the community. The gathering of 22 leaders, reuniting after a long hiatus due to the COVID-19 pandemic, added an extra layer of significance to the occasion.
When the event concluded, the participants passed the newly built bicycles to The Boys & Girls Club of Middle Tennessee. To the surprise of the participants, however, the charity brought the very same children that would be receiving the bikes! They were excited to accept them with smiles on their faces. This act of generosity exemplified Stryker's commitment to making a positive impact on the lives of others, aligning with their mission of improving healthcare outcomes.
We extend a heartfelt thanks to Stryker for their generous donation to the community of Nashville, Tennessee. We also give a big thanks to the Boys & Girls Club of Middle Tennessee for their cooperation.
Want to ignite team spirit and create an unforgettable experience? Get in touch with us today to learn more about our team building games in Nashville, TN!