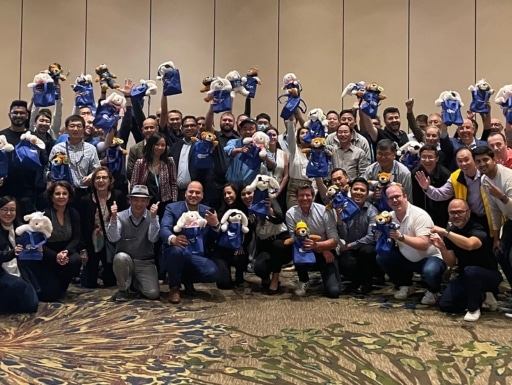 Thales, a global technology leader, organized a Rescue Bear® team building event in Los Angeles, CA. In total, they brought together ninety employees from their data security group. The event aimed to foster teamwork and collaboration while making a positive impact on the community. Held at the Westin Pasadena, this engaging activity resulted in the donation of forty-five stuffed animals to Hillsides.
Thales is a leading global technology company with a workforce of over 77,000 employees across five continents. Their focus lies in investing in digital and "deep tech" innovations. For example, Big Data, artificial intelligence, connectivity, cybersecurity, and quantum technology. Thales provides solutions, services, and products in the sectors of defence and security, aerospace and space, digital identity and security, and transport. Their commitment to building a future we can all trust drives their mission to support companies, organizations, and governments in carrying out their critical tasks.
Thales employees come together for Rescue Bear® event in Los Angeles, California
The Rescue Bear® event served as an opportunity for Thales' data security team to strengthen their teamwork and collaboration skills. Ninety participants gathered in picturesque Los Angeles, CA, at the Westin Pasadena. Naturally, it provided an ideal venue for fostering connections and engaging in team building activities. The event aimed to create a sense of unity and camaraderie among the employees. Above all, the team was excited to know they would be working together for a worthy cause.
During the event, teams competed against each other to stuff teddy bears, with the ultimate goal of donating them to Hillsides. The enthusiasm and dedication displayed by the Thales employees were remarkable, resulting in a generous donation of forty-five stuffed animals. This collective effort not only showcased their teamwork and creativity but also left a lasting impact on the children at the Hillsides Children's Home, bringing them comfort and joy.
We extend our heartfelt appreciation to Thales for their contribution and support in making a difference in the lives of children. A special thank you goes to Hillsides for their exceptional work in providing care and support to those in need.
Looking to strengthen teamwork and make a positive impact on your community? Get in touch and learn more about all of our team building games in Los Angeles, CA!