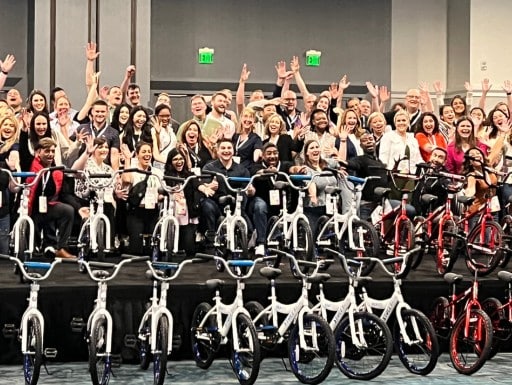 The Leaders Institute teamed up with ProPlanit to put on a Build-A-Bike® team building event for Unilever in Orlando, Florida. The Unilever group had around 700 participants, making for one of the largest Build-A-Bike® events we've ever put on.
Unilever is a British-Dutch multinational consumer goods company. The company produces and sells a wide range of products including food, beverages, cleaning agents, and personal care products. Some of its well-known brands include Axe, Ben & Jerry's, Dove, Hellmann's, Knorr, Lipton, and Magnum. Unilever has operations in over 190 countries and employs around 155,000 people. The company has a strong focus on sustainability and has set ambitious goals to reduce its environmental impact and improve the social conditions of its workers.
Unilever Brings Huge Team of 700 to Build Bicycles for Charity in Orlando, FL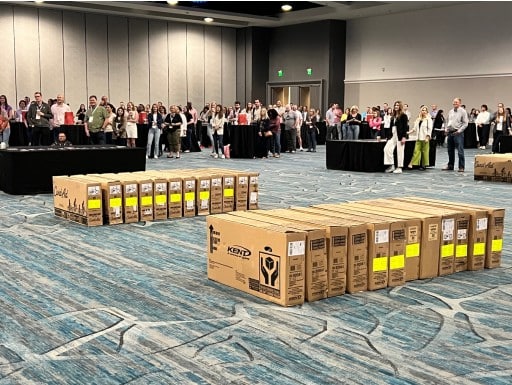 Unilever decided to put on a Build-A-Bike® charity event as part of their national sales meeting. The group of employees that participated were from their customer development group. Unilever held the event at Orlando World Center Marriott and brought together 700 participants for an afternoon of team building and community service.
The Build-A-Bike® event was a fun-filled and engaging experience that allowed the participants to work together in teams to assemble bicycles. After the event, the bicycles would later be donated to charity. The event was not only a great team building exercise, but it also had a positive impact on the local community. The Boys & Girls Club of Central Florida were thrilled to receive the donated bikes, which would later be hand delivered to a group of lucky children.
We give a big thank you to Unilever for their generous donation. The children from the Boys & Girls Club of Central Florida will not forget your contribution. We would also like to thank ProPlanit for their collaboration on hosting this event!
We work with meeting planners! If you need help taking on an event, let us know. We can work with your team to create a stress-free and seamless experience that satisfies your client. Get in touch with us if you need help with team building games in Orlando, FL!