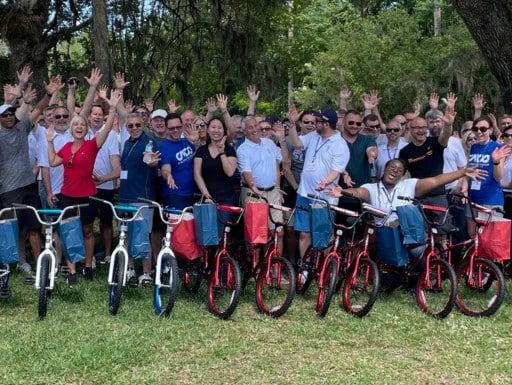 Columbus McKinnon brought together 100 participants for a Build-A-Bike® charity event in Ponte Vedra Beach, FL. The event was held at the Sawgrass Marriott Golf Resort as part of a leadership summit. The Leaders Institute worked together with Ethos Event Collective to ensure the large event was handled smoothly.
Columbus McKinnon is a leading designer, manufacturer, and marketer of material handling products, systems, and services that efficiently and ergonomically move, lift, position, or secure materials. With a history dating back to 1875, Columbus McKinnon has earned a reputation for providing high-quality products and superior customer service.
Columbus McKinnon Builds Bikes for Boys & Girls Club in Ponte Vedra Beach, FL
An international team of employees from Columbus McKinnon's engineering firm came together for the "Growth Through Execution FY24 Leadership Summit." Between a long day of meetings, a Build-A-Bike® event was chosen as the perfect opportunity for a break.
The team had a great time working together to assemble the bikes. At first, things were going smoothly as they answered a set of questions to receive bicycle parts. Then, their ability to work together as a team was tested, but they had no problem coming together to find the answers. Once the bikes were completed, they were graciously accepted by a representative from the Boys & Girls Club of Northeast Florida. The bikes would later be donated to some lucky boys and girls from the community.
We want to thank Columbus McKinnon for their generous donation to the Boys & Girls Club of Northeast Florida. We would also like to thank Ethos Event Collective for their cooperation in making this event a success.
Do you need a fun event for your next leadership summit? If so, check out our full list of team building games in Ponte Vedra Beach, FL!