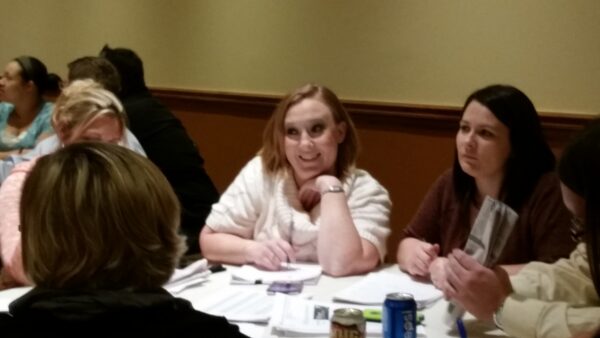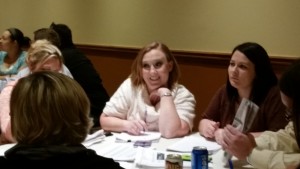 Laughter and more laughter! That was the atmosphere during a recent Charade Murder Mystery conducted recently for World Acceptance Corporation. Erik Brown, Vice President of Operations, introduced the event with the highest praise for The Leaders Institute® -– this was their third team building event with TLI. Six supervisors from World Acceptance had agreed to take on the roles for the Charade. They sat at a table in the middle of the room, seeming to participate in the memory challenge and the listening exercise. But something was wrong. Why was Mr. Brown following Mr. Red outside the room? Why was Mr. Green so upset? Soon Mr. Black entered and performed a long, hilarious death scene, complete with moans, groans and upending furniture.
Soon the 70+ attendees were interviewing the suspects. The supervisors improvised beautifully and red herrings filled the room.
At the end, only about 20% of the teams had named the actual murderer of Mr. Black. But it didn't matter. There was much laughter as teams found ways to creatively implicate each of the suspects.
A supervisor who played the manipulative schemer, said, "I was a skeptic at first but I had a great time. It was really fun for everyone, and I love the way the event came together!"
TLI improviser Laura Lewis-Barr led this charade at the Columbia Holiday Inn Executive Center, 2200 I70 SW, Columbia, MO 665203.
---

Laura Lewis-Barr is president of Traning4Breakthroughs, and she is an expert presentation skills coach based in Chicago, Illinois. She teaches team building events in Chicago, Minneapolis, Indianapolis, St Louis, and other cities in the Midwest, and works with clients all over the world.

---