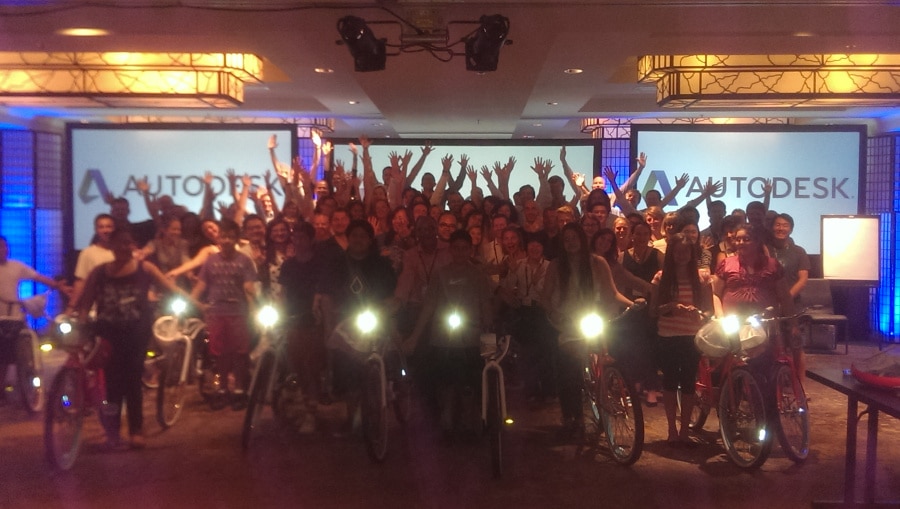 Autodesk decided to end their 3-day summit with team building events in a great location: The Lodge at Sonoma Renaissance Resort and Spa: 1325 Broadway, Sonoma, CA 95476. Autodesk produces software for a number of industries: including architecture, engineering, construction, manufacturing, media, and entertainment. This summit brought together folks from all over the world, from as far as Singapore and the United Kingdom. There were also many from their headquarters in San Rafael, CA.
The company is going through several changes and wanted to emphasize the importance of teamwork. They devoted a day to a combination of team-building activities. The group started with the Creating a Team Culture classroom team activity.
For additional information, see Creating Team Culture for more workshop ideas.
Autodesk Combines Morning Classroom Sessions with Fun Team Activity in the Afternoon.
In the morning session, participants were able to discuss their strengths and weaknesses with building trust and rapport and were given tips to be able to improve in these areas. They also learned an easy-to-use technique to gain consensus and be persuasive, whether it be to an individual or a small or large group.
The structure of these activities was very much centered around small group work, as opposed to a lecture. Participants were relieved as they had just been through two days of content-heavy material, and were coming into the morning session off of a costume party with karaoke at the hotel the night before! In the afternoon, they participated in Build-A-Bike®, which further emphasized the importance of team building in a fun way.
Los Angeles based instructor Chris McNeany enjoyed working with such an enthusiastic group. The Boys and Girls Clubs of Sonoma Valley were thrilled to receive the bikes, and Wine Country Cyclery was a huge help in making sure the bikes were all safety check approved and ready to ride!
"Chris, thanks so much for your amazing facilitation on Day Three – Creating a Team Culture really worked out to be the perfect team development activities for the last day of the Summit. I heard many positive comments about you and the day!" – Autodesk
For details about Team Building in Sonoma, California, click here.