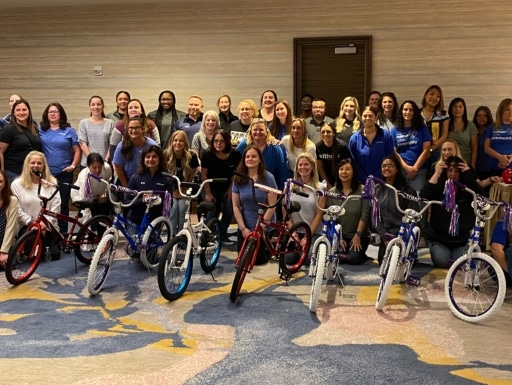 Withum, a regional accounting and consulting firm, attended a Build-A-Bike® team building event in Atlantic City, NJ. Bringing together 70 professionals from Withum, the event aimed to foster engagement, teamwork, and friendly competition. The Boys & Girls Club of Atlantic City was the chosen charity for the event, benefiting from the participants' enthusiasm and support.
Withum is a reputable accounting and consulting firm based in the United States. With a team of over 1,200 professionals spread across multiple locations, Withum offers comprehensive services, including audit, tax, advisory, and technology consulting. The firm specializes in serving clients in various industries. Those industries include healthcare, technology, manufacturing, real estate, and nonprofit organizations. Withum is widely recognized for its commitment to client service, technical expertise, and innovative solutions.
Withum professionals come together for Build-A-Bike® event in Atlantic City, New Jersey
Held at the Borgata Casino/Hotel in Atlantic City, the event venue provided an exciting and energetic backdrop for the activities, fostering a sense of camaraderie and friendly competition among the participants. While the event focused on team building and fostering connections within the Withum group, it also had a charitable aspect. Withum selected the Boys & Girls Club of Atlantic City as the beneficiary of the event.
The engaging and enthusiastic participants showcased their competitive spirit, creating a lively atmosphere and ensuring a memorable experience for all. Even amidst all the fun, the teams were able to get the bicycles built in time for the charity to come pick them up. A group of lucky boys and girls would later receive the bikes.
We extend our sincere appreciation to Withum for their participation and generous donation. Our heartfelt thanks also go to the Boys & Girls Club of Atlantic City for their invaluable work in nurturing the youth of the community. Together, we can make a difference.
Looking to boost engagement and teamwork? Try out one of our memorable team building games in Atlantic City, NJ!