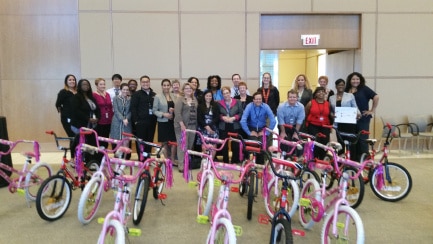 In a fantastic high rise building in the heart of downtown Chicago, 40+ enthusiastic team members of Blue Cross Blue Shield gathered to perform cheers, solve puzzles, and build bikes for kids. It was a busy time for the group but they cleared two hours from their calendars to learn more about each other and have fun, and they chose to conduct a Build-A-Bike® team building event in Chicago as the backdrop for their activities.
As they arrived, some were nervous about building a bicycle but everyone soon found that working as a team meant having many new skills.
Dan, a representative from McCormick YMCA, accepted 14 bicycles on behalf of their children. Some of the kids in the Y programs had never had a bike. Dan said they were eager to get riding on a brand new trail nearby.
The Leaders Institute® has offered several Build-A-Bike® team building programs at BCBS. We look forward to visiting them again.
This event was held at the Blue Cross Blue Shield of Illinois office at 300 E Randolph, Chicago, IL 60601. For details about conducting a Build-A-Bike® team building event at your office, visit the webpage at https://www.leadersinstitute.com/team-building/bicycle-team-building.
For details about a team building event in Chicago, Illinois, click here!