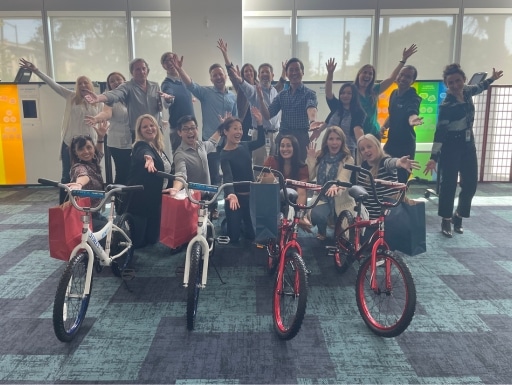 Blue Shield of California, a leading health insurance provider, organized a Build-A-Bike® team building event in the Bay Area, CA. The event brought together 27 professionals from the company, aiming to foster team work among the participants. The East Bay Agency for Children was the chosen beneficiary of the event, adding a philanthropic aspect to the team building experience.
Blue Shield of California is a renowned health insurance company. Their main focus is on improving the health and well-being of its members. Above all, they're dedicated to providing access to high-quality healthcare for individuals and families. Blue Shield of California offers a range of health insurance plans and services for families across the state. In addition, the company is committed to making a positive impact in the communities it serves. They do this through various corporate social responsibility initiatives.
Blue Shield of California hosts Build-A-Bike® event in the Bay Area, California
The event brought together 27 marketing professionals for a day of team building and team work. As individuals with diverse roles within the marketing department, this event provided a unique opportunity for the team. Particularly, the opportunity to connect, build rapport, and enhance their teamwork skills. Held at the Blue Shield of California office in Oakland, the event created a convenient and comfortable setting for the participants to engage in the activities.
The group of marketing professionals embraced the spirit of the event and actively participated in the team building exercises. The activities involved working together to assemble bicycles, fostering communication, problem-solving, and cooperation. The East Bay Agency for Children was chosen as the beneficiary of the event, aligning with Blue Shield of California's commitment to supporting the well-being of the community. By donating the bikes, the participants made a positive impact on the lives of children, promoting health, and active living.
We give our sincere thanks to Blue Shield of California for their dedication to team building and community engagement. We also extend our gratitude to the East Bay Agency for Children for their work in helping children and families.
Ready to build strong teams while making a difference in the community? Check out our full list of team building events in the Bay Area, CA!