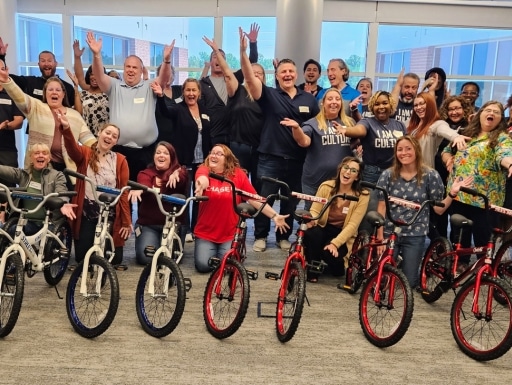 JP Morgan Chase, the renowned financial institution, attended a Build-A-Bike® team building event in Columbus, OH, bringing together seventy participants. The truth, however, is that Chase had actually worked with the Leaders Institute before. The group had previously conducted a self-facilitated Build-A-Bike® activity and was enthusiastic about trying the full program. They decided the most appropriate place to hold the event was in their own office in Columbus. The surprise elements of teamwork, competition, and donation added an extra layer of excitement. At the end of it all, the event received positive feedback for its unexpected and engaging nature.
JP Morgan Chase is a leading global financial services firm, offering a wide range of banking, investment, and wealth management solutions to individuals, businesses, and institutions. With a strong presence and reputation in the industry, JP Morgan Chase is committed to providing exceptional services and driving positive change in the communities it serves.
JP Morgan Chase hosts Build-A-Bike® event in Columbus, Ohio
The event was a pleasant surprise for the attendees, as it was initially pitched to them as a volunteer and donation opportunity. Initially unaware of the team building and competition aspects, the participants took a moment to get into the spirit of the event. Unsurprisingly, the energy was quickly turned up, and soon everyone enthusiastically embraced the activities and had a great time.
The unexpected turnaround of the event garnered positive feedback from the participants. Their initial hesitation transformed into excitement and engagement as they dived into the team building and competition elements. The collective effort and competitive spirit fueled a sense of unity and accomplishment. Moreover, the event's focus on donating bicycles added a philanthropic dimension, aligning with JP Morgan Chase's commitment to making a positive impact in the community.
We extend our sincere gratitude to JP Morgan Chase for their continued partnership and support. Special thanks to St. Vincent DePaul for their collaboration and dedication to serving those in need.
Want to surprise your team with a team building event that's actually fun? Get in touch and learn about all of our team building games in Columbus, OH!