Fifty Google employees got together outside of San Francisco in nearby San Jose, California to host a Build-A-Bike ® team building event.  The team was from the Advertiser Experience department, were made up of mostly engineers, and traveled from all over the region, Mt. View, Irvine as well as a few people from Krakow Poland.  They are familiar with each other because they are on the same team but due to having their home bases so far away, they don't see each other in person that often.  Because of this, a successful event was basically getting folks that don't know each other that well, to know each other better and to have fun in the process.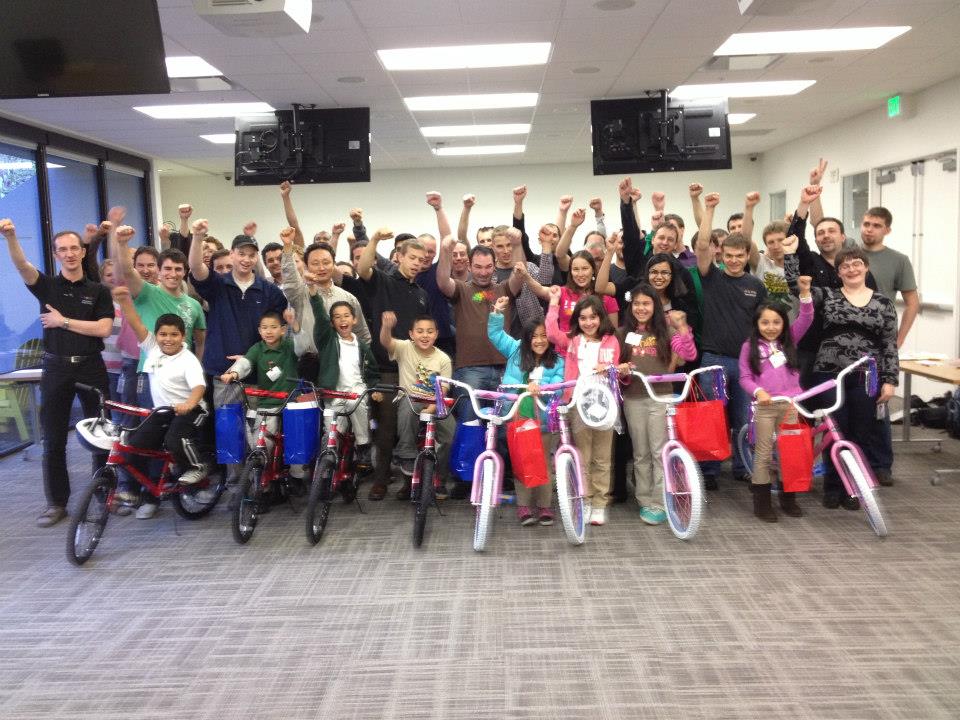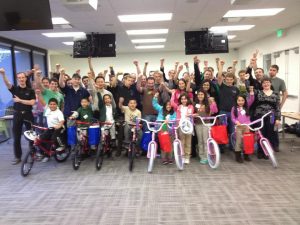 The group had been in meetings all day and this was their first opportunity to get up and move around.  They had very little idea what they were going to be doing for the next 2 hours but were game to jump in. 
We Used Competitition to Build the Enthusiasm in the Room.
They were a little tentative and quiet at the beginning but the competitive juices got flowing pretty quickly.  It doesn't really matter what kind of a task you put in front of people, regardless of the task, everyone wants to win and does whatever it takes to do so.  The engineering team was also a very technical crowd.  They knew that if they thought about it long enough, there were sure to get it right.  Well, with a couple of tricks thrown in it is not straight forward as they might assume.  It takes every team working together to get their parts to build their bikes.  The Google crowd rose to the occasion and accomplished the goals quite nicely.
At the end of two hours, the Google engineers successfully built eight bikes that were donated to the Boys and Girls Club of Alviso.  The kids did not know that they were going to receive bikes and the Google participants did not the kids were there.  As the doors opened for the kids to come in they were a little shy but once they saw the bikes, they all raced to claim which one was theirs.
As she waited outside to bring the kids in Christina Hsu, who organized the event, said-
"I could hear everyone inside laughing and cheering.  It sounded like such a good time!"
If you want information about how your team can organize a "charity bike build" click this link. For a list of all of the team building events in San Francisco and Silicon Valley, click here.
A good time was had by all and many a happy day to come with the kids riding their very own, brand new bikes!