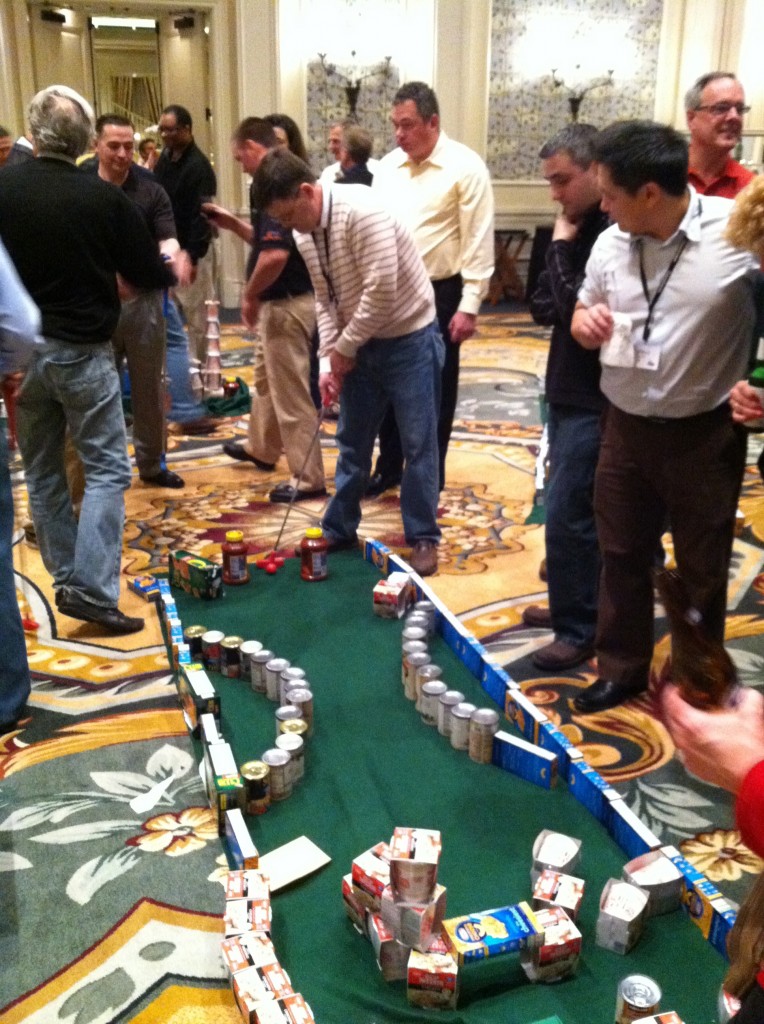 Carestream Health recently included an Ace Race ® team building workshop in their conference in Orlando, Florida. This healthcare company is headquartered in Rochester, New York, and has sales reps scattered all over the US and Canada. They gathered in Orlando's warm, sunny climate for their week-long annual conference.
Carestream Health was formed in 2007 when Onex Corporation of Toronto, Canada purchased Eastman Kodak Company's Health Group and renamed the business as Carestream Health. The business continues to thrive with tens of thousands of customers worldwide and operations in 170 countries. They have been a world leader in medical imaging innovation for more than 100 years—with a global team of experts passionately committed to doing whatever it takes to help their customers be successful.
Carestream Has a Fun Golf Team Event in Orlando and Donate Tons of Food to Charity.
The Ace Race ® began with a quick warm-up activity that gave the participants a chance to interact with each other and try to learn things about each other that they didn't know before. The group shared a lot of laughs and the competitive spirit was high! Moving into the Ace Race itself, each team created a mini putting green for themselves using non-perishable goods. Each green had a unique design and some included very tricky obstacles! All of the teams then had a race to see which team could get around the entire course first, making a hole-in-one on each green. With 140 people divided into 18 teams around the room, the energy level was high, and it was chaotic!
This group has been working together for a long time and most people know each other pretty well. There was a lot of camaraderie and healthy competition going. Carestream had done a Build-A-Bike workshop with us in Las Vegas at their last conference and wanted to keep in line with the philanthropic team building type of program. The non-perishable food goods used in the Ace Race are donated to a food bank at the end of the program, and in this case, we selected Second Harvest Food Bank of Central Florida to be the recipient. A representative from the Food Bank came to the event and spoke to the group about their work and the impact that the donation of nearly one ton of food will have in the Orlando community. She also told them about ways they can get involved with their local food backs back home, should they wish to do so. One participant was so impressed that he made an additional cash donation!
"The workshop was great!  Everybody thoroughly enjoyed it and had a fun time.  Ellen did a fantastic job with all of it – she was great with handling this unruly group!" — Neil Bryant, Carestream Health
Team building workshops that are composed of activities that have a point, coupled with a lot of fun and the opportunity to give back to the community are a great way to get people having fun together.
If you want information about how your team can organize a "fun golf team building event" click this link. For a list of all of the team activities in Orlando, click here.
Consider including an Ace Race in your next conference and give your team a memorable experience!