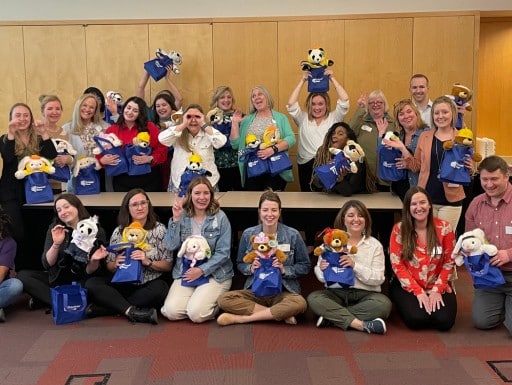 The PKD Foundation organized a Rescue Bear® charity event in Kansas City, MO with 27 employees in attendance. The event supported Operation Breakthrough and brought together the PKD Foundation employees for an unforgettable team-building experience.
The PKD Foundation is a national non-profit organization dedicated to finding treatments and a cure for polycystic kidney disease. Since 1982, the foundation has funded over 1,300 research projects and leveraged $1.5 billion in research funds. The foundation aims to fund basic and clinical research, nephrology fellowships, and scientific meetings to achieve their goal of discovering and delivering treatments and a cure for PKD.
PKD Foundation employees come together to stuff teddy bears for Operation Breakthrough in Kansas City, Missouri
At the charity event, PKD Foundation employees worked together to stuff teddy bears for Operation Breakthrough, a local organization that provides education and support to children and families in poverty. The team-building activity allowed employees to bond over a good cause while also giving back to the community. The event was a success and helped to strengthen the company's commitment to philanthropy.
In addition to working together for a great cause, the event gave employees of the PKD Foundation a chance to connect with each other outside of the office. Overall, the event was a meaningful experience for everyone involved and reinforced the importance of giving back to the community.
A big thank you is in order for the PKD Foundation and Operation Breakthrough! We appreciate your partnership in making this event possible.
A charity event is a great way to bring your teams together. Check out the full list of our fun team building games in Kansas City, MO!