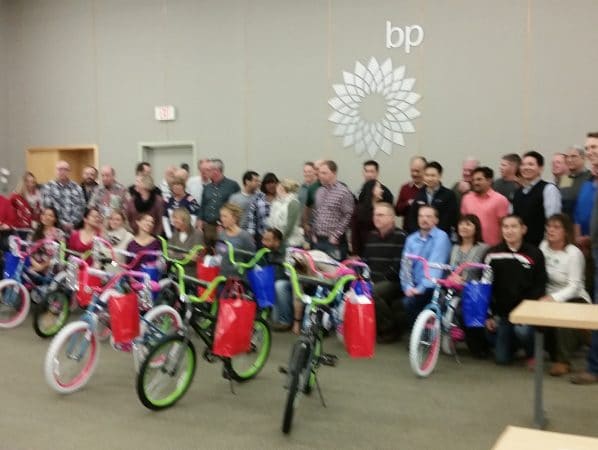 I recently had the pleasure to facilitate some bike team building in Chicago, Illinois for a smart group of people from Castrol, a part of BP. This group wanted the focus of their holiday event to be about giving to others. Castrol found The Leaders Institute ® Build-A-Bike ® event and thought it was a perfect fit. Their group loved the idea of giving bicycles to children at Christmas. The group of fifty first enjoyed an amazing lunch created for them by their resident chef. (Nice!)
Castrol Bike Team Building in Chicago
Then we started the Build-A-Bike ®. The group was smart. The saleswomen, chemists, and managers aced the memory game, the cheer contest, and the puzzles. The teams then competed and cooperated to share bike parts. After building their bikes, they took photos with their teams. In addition, others used the bicycle pump to make sure all tires were ready for the children. The groups hugged and joked. Then we took pictures as a larger group. But the main event had not really started for the Castrol teams. The children who would get the bikes were just getting out of school. Soon they would be on their way to the event. The entire group wanted to wait for them. While they waited, some teams went for coffee while others took a mannequin challenge. One of the resident videographers took a long film of the thirty participants frozen in space. Fun!
Fun Donation to a Local Chicago Children's Charity
The children and parents arrived in a caravan that first had to go through some security checks. Finally it was time. The boys and girls ran into the room and each claimed a bike. Sherid Smith from the local Boys and Girls club shared stories of some recent hardships these children had faced. The Castrol bikes were going to make this a much happier Christmas for them.
Afterwards the event organizer brought out homemade cookies for the children. It was cold outside but there was great warmth in this room. John, a chemist in the group said that the event had been "great" and he "loved the memory game."
This Build-A-Bike ® was facilitated by Laura Lewis-Barr on December 9th at Castrol Industrial, 150 West Warrenville Rd., Naperville, IL 60563. For details about bike team building in Chicago of your own, visit our Team Building in Chicago page!
If you want information about how your team can organize a "bike team event" click this link. For a list of all of the team building events in Chicago, click here.
Laura Lewis-Barr is president of Traning4Breakthroughs, and she is an expert presentation skills coach based in Chicago, Illinois. She teaches team building events in Chicago, Minneapolis, Indianapolis, St Louis, and other cities in the Midwest, and works with clients all over the world.