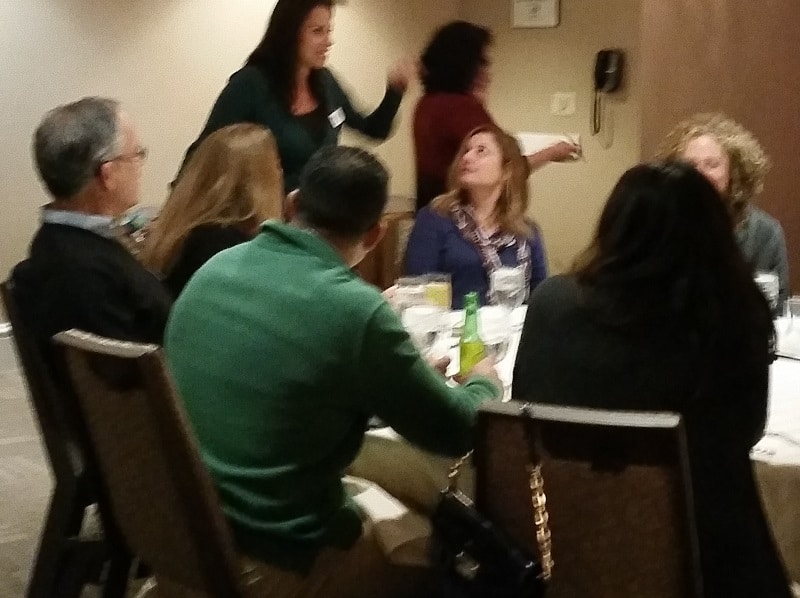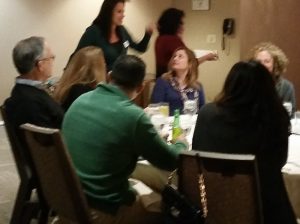 It seemed like an ordinary cocktail party but then suddenly there was a fight. A woman was breaking apart cigars but the company CEO had the last one. He rushed from the room. The room quieted again as the crowd from Everyday Health laughed and joked. They stood in line for drinks from a busy bartender. It had been a full day of meetings. They were ready to unwind. Suddenly the CEO lurched back into the room, spun around, sputtered, coughed and then dramatically fell over "dead." Laura grabbed a nearby microphone, "Nobody move, this is a crime scene." The Everyday Health Murder Mystery Team Building event in Morristown, New Jersey had begun!
The group moved to tables and began to question each suspect. Was it wise-cracking Mr. Brown, who had a wild excuse for why he was out of the room so often just before the murder? Was it quiet Ms. White who wouldn't answer any questions and looked nervous? Was it zany Miss Red who offered several changing conspiracy theories?
After interviewing five suspects and examining the incriminating physical evidence (checkbook entries, airplane tickets, letters) each team concluded their investigation and named the murderer. There was much laughter and groans when the true villain came forward. Only one team had deduced the true criminal.
"That was fun!" said Joan Arata, SVP with Everyday Health.
This Murder Mystery was facilitated by Laura Lewis-Barr on November 16 at the Westin Hotel, 2 Whippany Rd, Morristown, NJ 07960.
If you want information about how your team can organize a "team murder mystery" click this link. For a list of all of the fun team building events in New Jersey, click here.