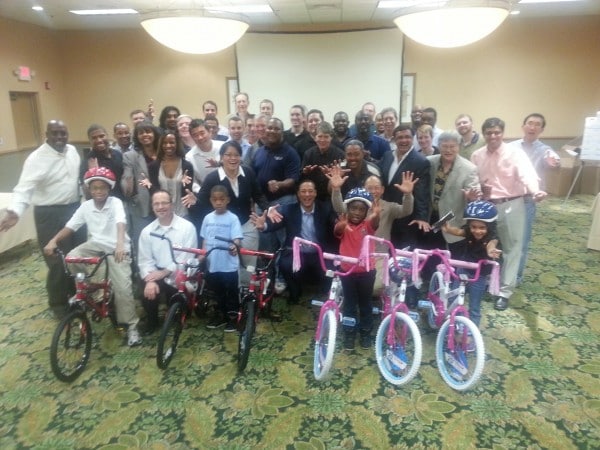 Cisco, a long time client with the Leaders Institute, chose to do a Build-A-Bike ® with their Orlando Florida conference at the Embassy Suites. This was a natural choice for Tony Blount of Cisco to include the Build-A-Bike ®. Tony contacted The Leaders Institute upon recommendation from Cisco employees who had experienced The Build-A-Bike event at other Cisco company conferences. The Build-A-Bike event was put on by The Leaders Institute, a national team building event company. The group consisted of managers and engineers from around the country who knew each other but only get the opportunity to meet a couple of times during the year. The team building event served as a great way for them to interact outside the workplace while teaching them fun team exercises that were to their advantage to cooperate and problem solve as a team for higher efficiency and success.
The Build-A-Bike Teams were formed with fun exercises that separated the participants into the groups who competed and cooperated together through fun team exercises. The teams were provided with a bag of fun materials to create their identity making team flags and creating team cheers for the exhibition. Once they got started, the energy escalated and the fun began as the participants raced to outdo their co-workers. The event got more exciting as they were then tasked with problem-solving questions in order to redeem the correct answers for bike parts that were needed to complete a whole bike.
At the end of the event, a local Orlando charity affiliated with the United Way sent six excited children to pick up the bikes. As you can imagine the expressions of gratitude from the children, and the thrill the participants experienced knowing that they contributed to the charity. If your company is looking for an energizing and positive experience to finish your convention or conference, Build-A-Bike proves to be a great team event with a charity component to add to your next meeting.
"We received many positive comments regarding the community team building event and you and your team did an outstanding job for us.  I really appreciate the quick response and partnership in the overall event. "
Thanks so much and best regards,
Tony Blount