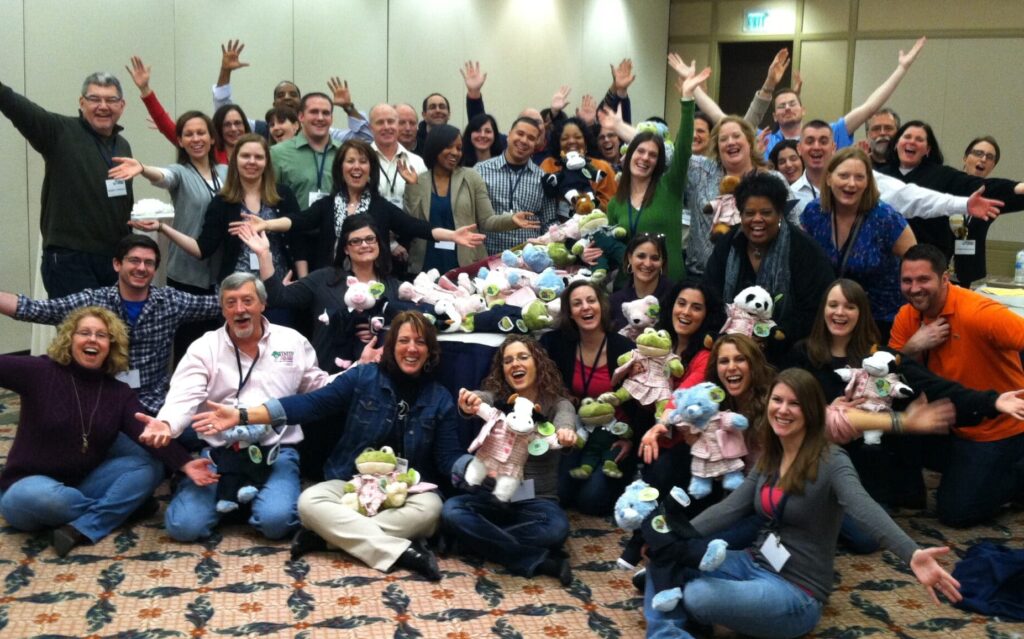 Mars Chocolate recently included a Rescue Bear ® charitable team building event in their annual meeting of Human Resources personnel near Newark, New Jersey. Mars Chocolate is the famous maker of M&Ms, Snickers, and many other well known, delicious treats. Headquartered in Mount Olive, New Jersey, Mars Chocolate is one of the world's leading chocolate manufacturers and employs more than 15,000 Associates across 19 countries.
Mars Chocolate is committed to leading the industry in sustainability and responsible communications. This gathering of Human Resources personnel from various locations was an opportunity to celebrate 2012's victories, look forward to 2013, and enjoy some camaraderie and fun together!
Rescue Bear ® is a workshop that is designed to help people see the importance of matching a person with the right talent for the right role within the company.  It helps participants identify the strengths of themselves and others and rely on those strengths when under pressure.  It shows how/why "Silos" are created and how to deal with the "Silo" effect more effectively.
Human Resources personnel are more familiar than most in a workplace with the ways in which personality styles and "silo" tendencies can hurt us, and they had a great time poking fun at various personality styles that emerged during the program and drawing on each group's strengths to solve various riddles and challenges. As each group acquired different materials needed to build the stuffed animals, the trading began so that the task could be completed.
At the end of the workshop, the stuffed animals that are put together and dressed in firefighter uniforms are donated to a local organization that helps kids. In this case, the donation was given to the Saint Barnabus Burn Foundation for the many children that come to their facilities to be treated either short term or long term for burn injuries. The Director of the Foundation came to speak to the group about their work and gave a very powerful speech that moved many of the participants to tears.
"This was a great program! We've done Build-A-Bike in the past, and this program was a great way to build on the charitable theme while still having a great time. Thank you!" –Kelly Carpenter, Mars Chocolate
Rescue Bear is a great event for giving people a chance to see how their natural strengths can help them be stronger communicators and better co-workers while giving something back to the local community. It's also just a lot of fun!
| | |
| --- | --- |
| | Ellen Patnaude is Vice President of Instruction for the Northeast region. She is based in Detroit, Michigan, but she also teaches in Chicago, Cincinnati, Columbus, Toronto, Baltimore and other Northeast cities. |
For details about all of our New York Area Team Building Events, click here.