Like this Post? Share it with Your Friends: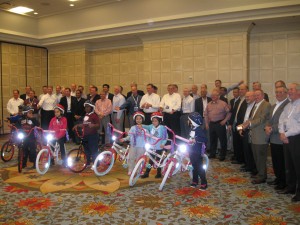 Fluor hosted the Build-A-Bike ® program at the Hilton Loews Anatole in Dallas for the ENC (energy and chemical) segment of Fluor. Fluor is a FORTUNE 500 company that delivers engineering, procurement, construction, maintenance (EPCM), and project management services to governments and clients in diverse industries around the world. Clients value Fluor's dependability, expertise, and safety to execute complex projects around the world. Karen and Gail are the event planners for Fluor, they were instrumental in choosing the judges and they stayed to be a part of the event. When the bike building started, it was again stressed that it was not a competition, but rather a goal to build bikes. But it still became a competition as teams raced to see who could get done first.
The Build-A-Bike ® event teaches teamwork skills through a series of challenges which the teams are to complete. The tasks encourage the teams to think outside the box to come up with solutions. While they are learning to work efficiently as a team, the Fluor team were also having fun, the opening exercise is just what the group needed after a long day of meetings. The overall lesson is that everyone works together to reach the same goal, it is not possible to start building your bike until everyone has their parts. The group participated and worked well with each other, some of the teams quickly figured out that they would achieve their goal if they worked with other teams in the room, showing that Fluor is a great company with great people. In addition, The representative for the Boys & Girls Club spoke about a certain young man who went through the program and how he was now at NYU becoming an engineer. Mike, in HR for Fluor spoke with Reynaldo from the Boys & Girls Club and offered that young man an internship with Fluor when he finished. The Fluor group treated the children to snacks while they waited to get their new bikes. The event was a success and Karen Bierman said that next time can we provide training wheels because some of the kids don't know how to ride bikes yet and we want to make sure they have everything they need.
Like this Post? Share it with Your Friends: