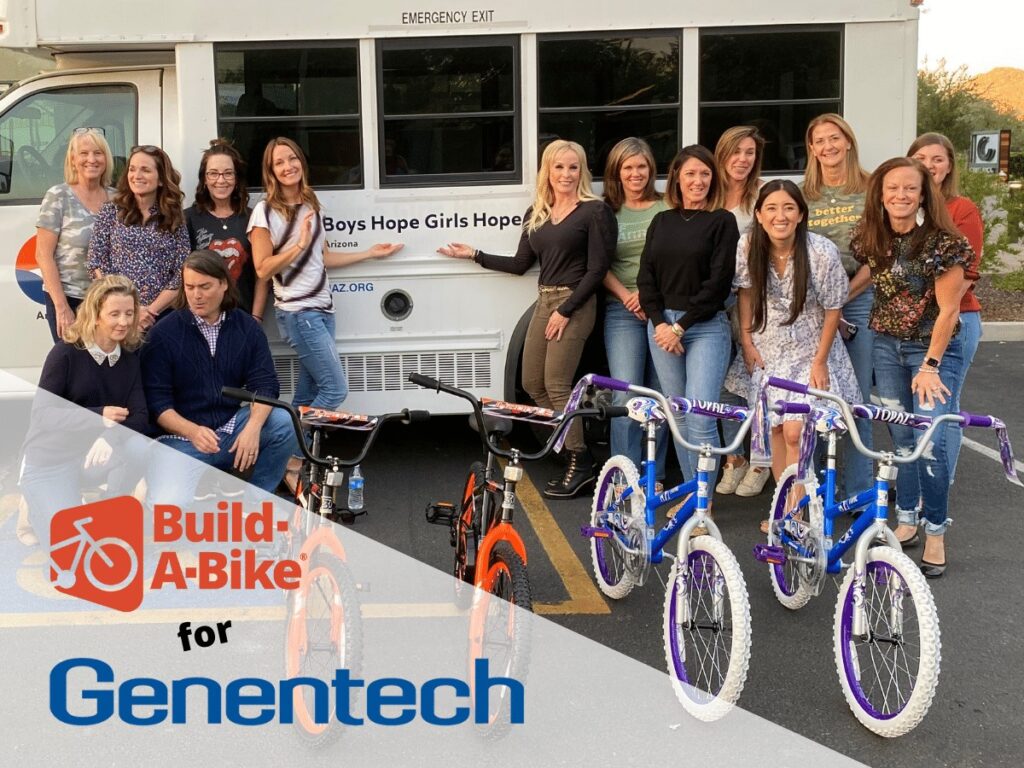 Genentech has been one of our oldest and most loyal clients. We did the first Genentech/Leaders Institute ® Build-A-Bike ® program in San Francisco in 2007. (And we have taught leadership development classes for them for years prior to that as well!) So, it was a pleasant surprise to get a call from them a few weeks ago for a last-minute bicycle team activity for their leadership group in Phoenix, Arizona. The fun team activity in Phoenix was just a small part of their normal meeting. However, according to the group, it was the highlight.
Genentech is a pioneer in genetic research to cure or treat illnesses. The research done by this company has extended the lives of patients all over the world. Their commitment is that as long as people suffer from diseases like cancer and Alzheimer's, they will continue to look for cures!
So it won't surprise you at all that the group that met in Phoenix were extremely intelligent individuals. Since some of them had heard a little about the program, we decided to throw them a little curve.
The Bikes Were Donated to Boys Hope Girls Hope in Phoenix, Arizona.
This group was exceptional at problem-solving. However, most good problem solvers like to try to come up with solutions on their own. This time, the solutions were quite easy if the group worked together as a team. The answers, though, would come slowly if they focused on solving the challenges individually. Ultimately, when we work together as a cohesive group, we accomplish more.
And this team rocked that lesson as well. (Finishing the activity in record time.)
At the end of the meeting, we invited a representative from Boys Hope Girls Hope in Phoenix to stop by and accept the donation on behalf of their kids. This organization specializes in helping young scholars from disadvantaged communities. Their goal is to help these kids advance their education to become more successful.
Thanks so much to Genentech and to Boys Hope Girls Hope for helping their community while build better teamwork!