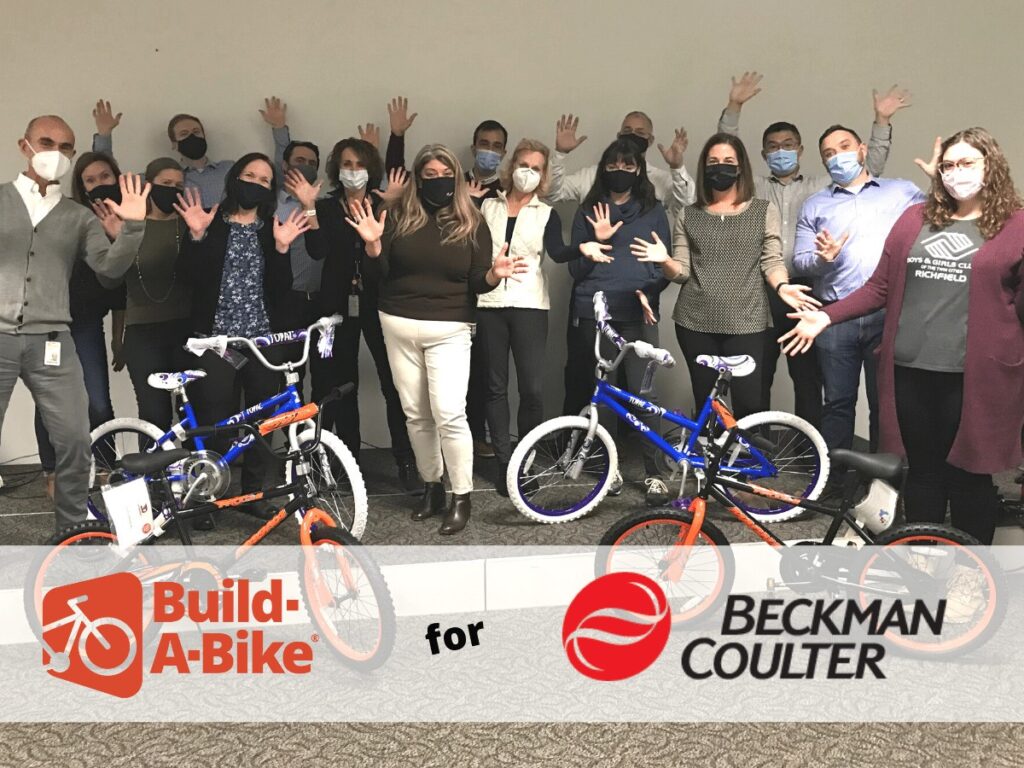 Beckman Coulter organized a fun day for a combination of their business development team and project management team. The two groups work hand in hand throughout the year. So good teamwork and communication are critical to success for both groups. So, on the Wednesday before Thanksgiving, the team leaders decided to organize a fun day to reward the teams for a great year and also to build good teamwork.
The business development manager, Kailey, decided that if she really wanted to make the day memorable, why not add something unique to the agenda. So, she started the day with a fun Build-A-Bike ® team activity.
Beckman Coulter is a healthcare diagnostic company based in Brea, California. Their breakthroughs help diagnostic laboratories worldwide. The company develops products that simplify complex biomedical processes. So, when we created a bike team activity for their group, we couldn't resist recreating the company philosophy as a metaphor for team building.
Beckman Coulter Business Developers and Project Managers Give Back and Build Teamwork.
Bright and early at 10:30 a.m. the two teams joined forces to begin the series of team challenges. We first combined the two teams and then separated them into new small groups. Each group had some business development team members as well as project managers. We created eight very simple challenges for them. However, we only gave each team part of the simple solution. As the small groups analyzed each challenge, they became a little confused.
That is until they realized that the groups in the room were not four separate teams (or, for that matter, two separate teams.) From the moment that the groups began to work together, they realized that what seemed very complicated actually had a very simple solution. They all had an "ah hah" moment when the instructor showed them that this is the same type of realization that their customers experience When Beckman Coulter takes a complicated biomedical process and makes it simple, their customers also have an "ah hah" moment.
The bikes that the teams assembled were donated to the Boys & Girls Club of Centennial Elementary. This school and club is located in a suburb of Minneapolis St. Paul, MN. The director of the club, Caylee Haus, accepted the donation on behalf of her kids. The whole experience was uplifting and gave a much-appreciated boost to the local community!