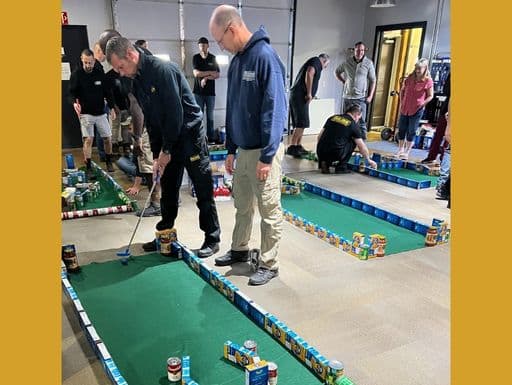 Nearly forty members of the Ohlins staff joined in Hendersonville, North Carolina for an Ace Race ® Golf Team Building Event. The opportunity was a great experience for team building, fun, friendly competition, and charity. Everyone enjoyed designing a miniature golf hole. Then they competed to make an "Ace" (hole-in-one) at each hole. Teams golfed on green felt mats. The twelve-holes used non-perishable food items for the hole construction. Staff placed obstacles into their hole to challenge their coworkers. Each team enjoyed creating a challenge and added fun for all of the participants. The fun and learning culminated in all of the food items being donated to a local rescue mission. All participants felt grateful after hearing how the food would be used. You never know the tremendous difference a donation makes for individuals.
Ohlins Golfs for Local Rescue Mission During Team-Building
This Golf Team Building Game is a fun way to teach some basic team building principles while having fun and giving back. The teams were formed randomly but each team had to use the experience and talents of the members to complete the tasks. Some people are good at the design of the golf holes. While others have the ability to put the parts together in a specific order to construct the holes. Some have the ability to hit the golf ball and make the critical shot; still others are able to recognize special talents within their group. The best teams are those that utilize those talents. Learning how each individual can contribute to the team and then cheering them on to make significant contributions. Those cheers and contributions accelerated teams through each hole faster.
Thanks Ohlins, for a great event and for making a significant contribution to the Hendersonville Rescue Mission. May The Ace Race ® experience benefit you as your gracious gift to the mission will benefit so many in need.