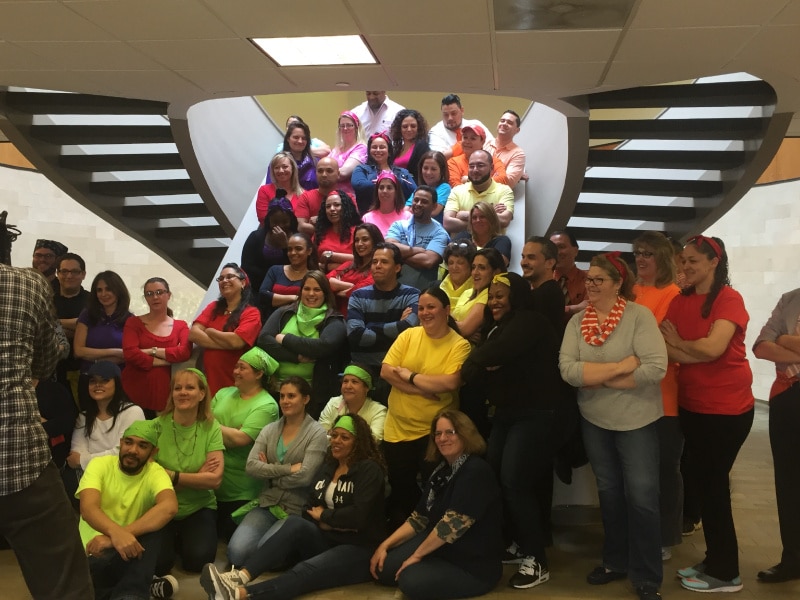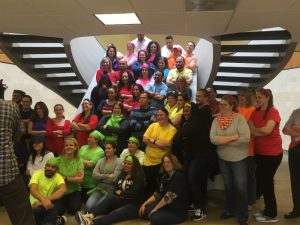 Optum360, a subsidiary of United Healthcare, conducted an across-the-country employee "give back" day in seven of their regional offices. In the Melville, New York location, employees were pumped-up for a fun-filled event of team bonding and building bikes for students from low-income families. Eight teams of 10 arrived to participate, all in team colors from t-shirts to bandanas! Before getting started with the actual Build-A-Bike®, teams met and selected their team captains. Each team presented themselves to the entire group by explaining their team name, showing off their team "flag", and motivating each other with an enthusiastic team cheer. The room was LOUD, full of laughter, and had tons of cheering. We have taught dozens of healthcare Build-A-Bike ® programs in the last few years. So, this series was right up our alley.
Healthcare Build-A-Bike ® Programs are a Blast!
After the first eight bikes were completed and thoroughly inspected by Leader's Institute® Instructor, Michelle Riklan, two more teams were formed to build the last two bikes; a team comprising one team member from each team selected by team captains and a managerial team that was ready to prove they were down for the task.
The United Way of Long Island helped to identify children in need. The bikes were presented to eight children in the Call-Center with all teams present as well as employees who were working within that space. Overall, the event was a huge success! Optum360 employees felt positive and excited to have been part of such a moving event, and the children were both thankful and elated that they were leaving the building with brand new bicycles.
If you want information about how your team can organize a "Build-A-Bike ® for charity" click this link. For a list of all of the fun team building events in New York, click here.
If you are in the healthcare industry, and you are looking for a healthcare Build-A-Bike ® team building event, call us directly at (800) 872-7830 for details! We have instructors who specialize in teaching programs for healthcare companies.