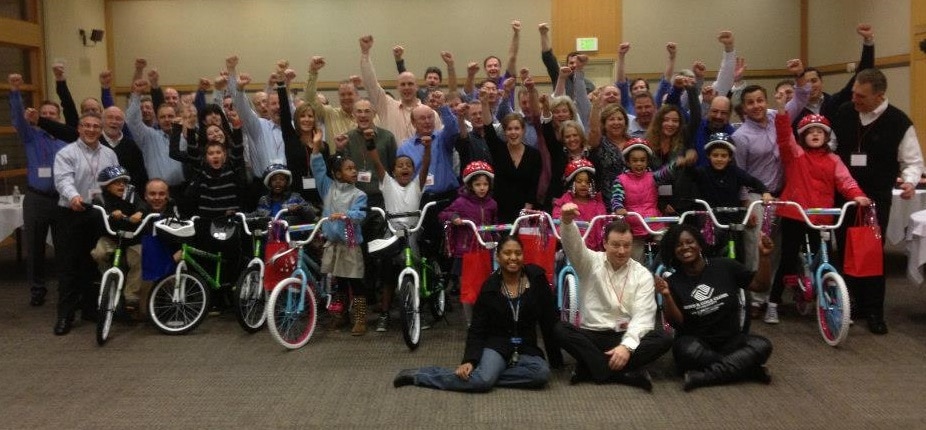 When Trident Seafoods, one of the largest seafood companies in North America based in Seattle, Washington wanted to host an event to bring a close to their annual sales meeting, they decided to participate in a Build-A-Bike ® team building event. Over sixty employees of Trident's sales department gathered together to participate in an event that would help them build a stronger team and improve their communication. The group was mainly from the local area with a few people from Canada and Mexico so the opportunity to be with each other face to face was that much more beneficial. Trident employees bring the highest level of quality to what they do and it shows in the long success of their company. It is through meetings like this that help them build a stronger team.
Trident Seafood Builds Bikes for Kids in Seattle.
They started off earnestly to complete the tasks to build their bikes. While the Build-A-Bike ® team building event is not designed to be a competition the Trident participants still thought they had something to win. They ripped through the challenges very quickly then worked on constructing their bikes. As usual, they realized about halfway through that they would not be able to complete the bikes without working together. The idea that the teams are separate entities and must operate like that is a common trap that the participants fall into. Eventually, they overcame the idea that they could do it by themselves and helped their opposing teams to complete the challenges. The bikes were built with the same high level of quality that the trident group brings to everything they do.
If you want information about how your team can organize a "charity team bike build" click this link. For a list of all of the team building in Seattle, click here.
While the event lasted only two hours, the teams came away with valuable lessons about teamwork and working together to give back to the community. Their hard work was paid off when they presented ten brand new bikes to children from the Boys and Girls Club of King County. Seeing the faces of the boys and girls with their new bikes was all they needed to know that their hard work was worth it all. By the end of the event, the participants were wiping their tears of joy away and thanking me profusely for the opportunity. Thank you to Trident's sales department for a very rewarding Build-A-Bike ® team building event!