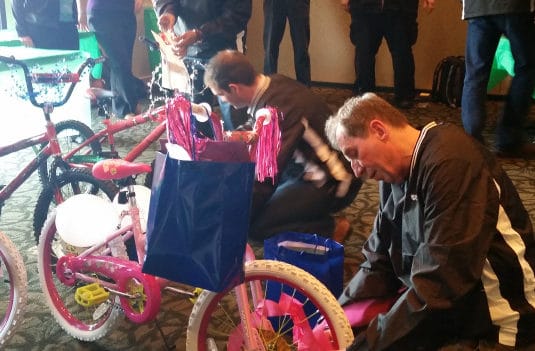 United Conveyor, a 95 year old a family-owned business decided to offer a (Build-A-Bike ®) bike team building during the second day of their yearly Chicago leadership conference. The goal of the conference was to help teams to "work better collaboratively and improve their communication." The forty participants included the President, CFO, and VPs in Engineering, Sales Marketing, Supply Chain, as well as Project Managers and Managers in Communications, IT, and Marketing.
The group was enthused and competitive! Some found it difficult to switch from competing to cooperating with other groups. There was much laughter as they reflected on their love of competition. But all hands came together as the group decorated the bikes for each of the eight children who would be soon arriving from United Way. Each team draped their bike with streamers and name tags. Several set up an assembly line to pump up all the bike tires before the children arrived.
United Conveyor Has Fun Building Bikes for Kids in Chicago.
The children were overwhelmed. Soon the teams worked to make sure the bike seats were set correctly and some even gave the children impromptu bicycle lessons. Some children had never had a bike before and didn't yet know how to ride a bike. Afterward, the VP of Human Resources for United said, "The group was really energized. They really enjoyed it!" This Build-A-Bike ® event was held on April 14 at Independence Grove Hall 16400 Buckley Rd, Libertyville, IL 60048 near Chicago, Illinois. It was taught by Laura Lewis-Barr, our Chicago based instructor.
If you want information about how your team can organize a "bike building team event" click this link. For a list of all of the great team building in Chicago, click here.