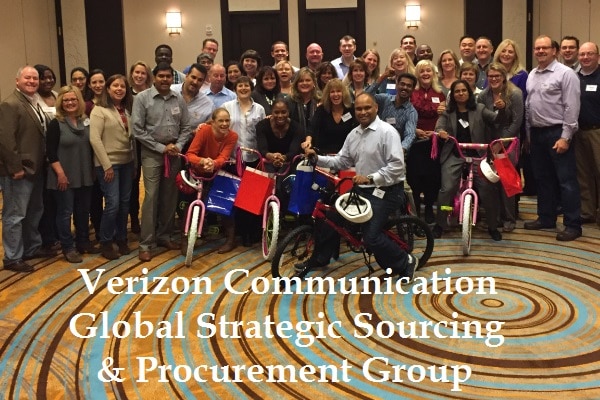 Verizon Communication's Global Strategic Sourcing & Procurement Group held a 2 ½ day meeting and team building in Newark, NJ at the Marriott. After breakfast, the group was revved up with carbs and ready for a fun-filled team building activity. They kicked off the event with an activity that introduced new team members to each other. This was a great opportunity to get to know each other better.
The Global Travel Manager at Verizon who organized the event. This was her second Build-A_Bike ® with The Leader's Institute®. The facilitator, Michelle Riklan had the team active and on their feet. As participants "raced" to get to know each better — some were more aggressive than others! After being sorted and joining new "teams", what seemed like a fierce competition to complete given tasks ensued. There was quite a lot of laughter throughout the room as new alliances were formed and projects were completed.
Verizon Donates Bicycles to Kids in Newark, NJ.
At the end of the event, each team had built a brand new bicycle and the Vice President, Strategic Sourcing & Procurement at Verizon Communications "safety checked" each and every one himself! After he took each bike for a spin, Cynthia Banks from the Boys and Girls Club of Newark BGCN (an organization committed to enabling all young people, especially those who need us most, to reach their full potential as productive caring responsible citizens), gave a presentation about the organization and collected the bicycles for children at the BGCN.
If you want information about how your team can organize a "team bike build" click this link. For a list of all of the team workshop New Jersey, click here.
For more details click any of the links above!