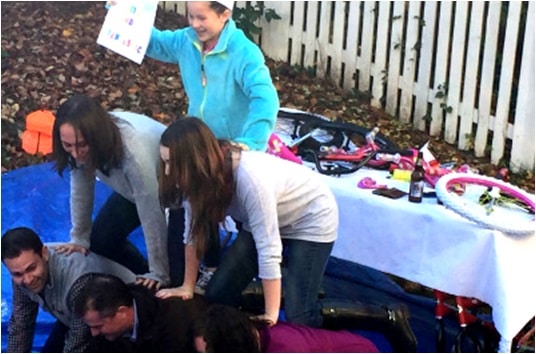 Wiley Rein is a Washington, DC-based law firm and a dominant presence in the nation's capital. With more than 250 lawyers, the firm has earned international prominence by representing clients in complex, high-stakes regulatory, litigation, and transaction matters. A recent partner's retreat for the government contracts practice area took place at one of the partner's homes in Chevy Chase, MD.
Prior to the event, attendees were polled to see what type of fun team building activity would be everyone's preference. After narrowing the options down to only a few, the consensus picked a Build-A-Bike® team building program with the Leader's Institute®, and the Conference Services and Events Manager at Wiley Rein worked hard to make that happen! The atmosphere was lively and the weather cooperated.
Participants arrived for barbecue and beverages. Spouses, children, and significant others also joined and some engaged in the activities as well. Our instructor, Michelle Riklan kicked off the event with a few "get-to-know-you-better" activities that had people laughing and scratching their heads a bit saying, "Hmm… I didn't know that!"
Don't Judge Them. Wiley Rein Builds Bikes for Kids in Chevy Chase, MD.
The group was anxious to get to the bike-building and had several obstacles to overcome before they could complete their objective. Some became frustrated as they tried to figure out what needed to be done and a group even organized a hilarious (albeit misguided) scavenger hunt in the middle of the event! Eventually, it all "clicked" and each team was well on its way to building children's bicycles.
Wiley Rein prides itself on generously giving back to the community (providing significant pro bono legal services and charitable contributions to more than 450 local and national organizations every year). The participants of the partner retreat were pleased to learn that their bike building efforts would make a significant difference in the lives of others.
Lynne Downer from The National Center For Children and Families (NCCF) https://www.nccf-cares.org/ (a private, nonprofit child and family welfare agency with a commitment to serving poor, disadvantaged, abused, neglected and/or abandoned children, youth, and their families) arrived at the end of the team building portion of the day to give everyone an overview of the NCCF organization and to collect the assembled bikes.
If you want information about how your team can organize a "charity team bicycle build" click this link. For a list of all of the great team building in Baltimore, click here.
Overall, it was a FANTASTIC experience.