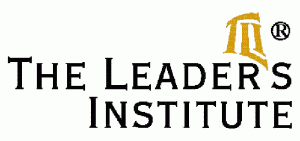 The Leader's Institute® is an international seminar and team building company specializing in the "soft-skills" side of business. Our instructors and trainers are experts in developing strong, confident leaders throughout Fortune 500 companies and independent businesses around the world as well as purposefully shifting and creating fun, high energy corporate cultures for client companies.
We specialize in the following areas:
Corporate Training Classes

Public Speaking and Presentation Training
Leadership Development
Management Skills
Selling Skills and Lead Generation

Team Building Company and Special Events

Event Planning
Team Building Workshops
Corporate Retreats
Convention Keynotes and Breakout Sessions

Corporate Culture Development

Performance Assessments
Corporate Consulting
Change Management
Succession Planning
Curriculum Mapping
Our team of trainers and consultants can provide expert advice and assistance in helping create the type of leaders and communicators that you want to create within your company. Corporate cultures will be created within companies whether you purposefully set out to create a culture or not. With the help of The Leader's Institute®, you'll be able to purposefully create the culture that you, your team, and your clients want to create.
Contact Us | The Leader's Institute® History | Our Corporate Leadership and Management | Our Mission and Vision | The Leader's Institute® Values