Team Building Events NYC
Team Building NYC: Team building in the Big Apple starts with The Leader's Institute ® New York! Our charity team building events are very popular in Manhattan and New York. However, keep in mind that these events require space. For charity team events, the ideal locations have big open floor plans such as a hotel banquet room. As a result, these can be very challenging to fulfill in downtown New York office buildings. So, if you are looking for a New York NY team building event, we'd recommend the Rescue Bear ® activity. Other popular activities include the Charade Murder Mystery and Creating a Team Culture. Contact our New York based consultants for details about all your options!
Team Building Activities
Event List PDF
Fun things to do in the city that never sleeps!
STATUE OF LIBERTY
The Statue of Liberty is a colossal neoclassical sculpture on Liberty Island in New York Harbor in New York, in the United States. The copper statue, a gift from the people of France to the people of the United States, was designed by French sculptor Frédéric Auguste Bartholdi.
CENTRAL PARK
Central Park is an urban park in Manhattan, New York City, located between the Upper West Side and the Upper East Side. It is the fifth-largest park in New York City by area, covering 843 acres. Central Park is the most visited urban park in the United States.
TIMES SQUARE
Times Square is a major commercial intersection, tourist destination, entertainment center, and neighborhood in the Midtown Manhattan section of New York City, at the junction of Broadway and Seventh Avenue.
EMPIRE STATE BUILDING
The Empire State Building is a 102-story Art Deco skyscraper in Midtown Manhattan, New York City. It was designed by Shreve, Lamb & Harmon and completed in 1931. The building has a roof height of 1,250 feet and stands a total of 1,454 feet tall.
THE MET MUSEUM OF ART
Belmont Park is a historic amusement park located on Ocean Front at Surfrider Square in the Mission Bay area of San Diego, California. The park was developed by sugar magnate John D. Spreckels and opened on July 4, 1925 as the Mission Beach Amusement Center.
BROADWAY
Broadway is a road in the U.S. state of New York. Broadway runs from State Street at Bowling Green for 13 mi through the borough of Manhattan and 2 mi through the Bronx, exiting north from the city to run an additional 18 miles.
WHAT ARE YOU WAITING FOR? VISIT NEW YORK CITY!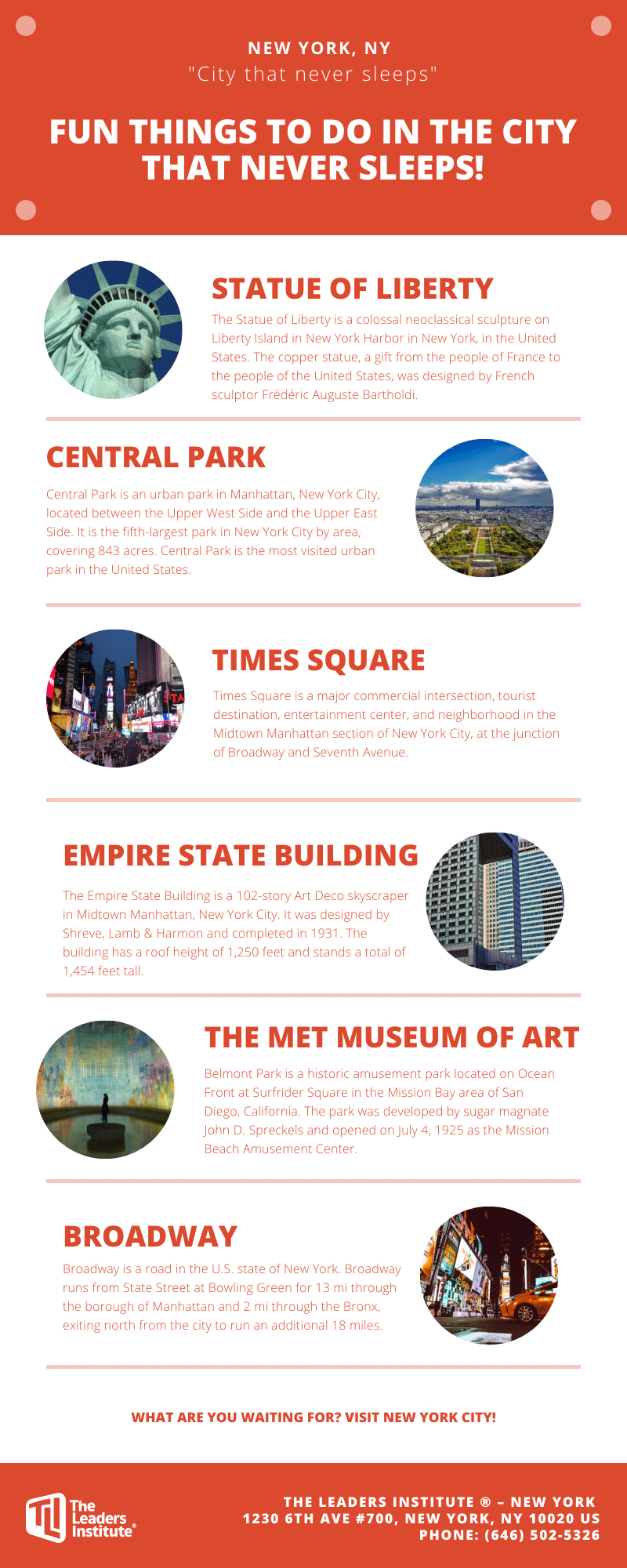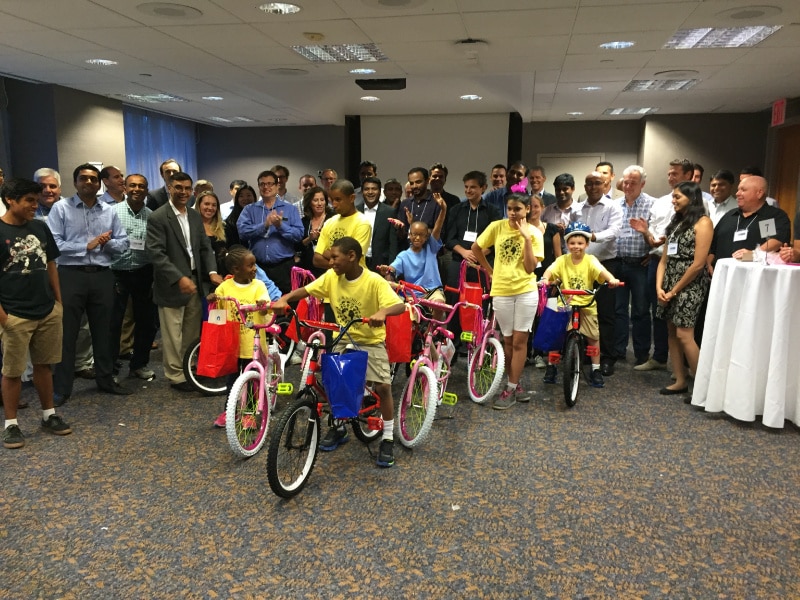 Team Building New York
The Leaders Institute ® – New York 
1230 6th Ave #700, New York, NY 10020 US
Phone: (646) 502-5326
Recent Reviews
Mar 6, 2020
The instructor was great and so was the event!
Mar 6, 2020
This event was the highlight of our marketing kickoff. Our team members were beaming with pride in the work we did together that was supportive of the local community. Having the four kids there to get their bikes and celebrate with us was just over the top. The process of working with you was seamless from inquiry to SOW to the handoff to the instructor and then the logistics at the hotel. The instructor was fantastic onsite. The team loved his sense of humor and engagement with the team. We would definitely turn to you and your team for future similar activities!

A Few Recent Events
Everyday Health Murder Mystery Activity in Morristown, New Jersey It seemed like an ordinary cocktail party but then suddenly there was a fight. A woman was breaking apart cigars but the company CEO had the last one. He rushed from the room. The room quieted again as the crowd from Everyday Health laughed and joked. They stood in line for drinks from a busy ...
FPC National Ace Race Golf Team Building in New York, NY You have to love golf team building in New York, NY. FPC National was holding their annual owner's conference in a meeting room overlooking Times Square in New York, NY. This company is a nationwide leader in executive search and recruiting for executive and management jobs. In addition, FPC is also a trusted partner whose ...
Employee Give-Back Day for Optum360 in New York, NY April 14th was employee give-back day at Optum360, a subsidiary of United Health Care as they conducted a cross-country, multi-location, simultaneous event. In Westbury, New York, selected employees were dressed in colorful team gear and had clearly been prepped in advance for an enthusiastic, high-energy day. Four teams of eight employees were ready to tackle ...
Fill out the form below to receive more information!