New York NY Team Building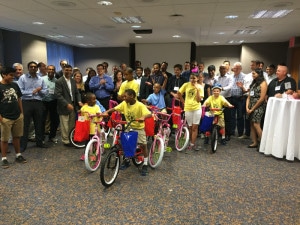 New York NY Team Building: Team building in the Big Apple starts with The Leader's Institute ® New York! Our charity team building events are very popular in Manhattan and New York. However, keep in mind that these events require space. For charity team events, the ideal locations have big open floor plans such as a hotel banquet room. As a result, these can be very challenging to fulfill in downtown New York office buildings. So, if you are looking for a New York NY team building event, we'd recommend the Rescue Bear ® activity. Other popular activities include the Charade Murder Mystery and Creating a Team Culture. Contact our New York based consultants for details about all your options!
Team Building Activities in New York, NY

The Leader's Institute – New York ®
1230 6th Ave #700, New York, NY 10020 US
Phone: (646) 502-5326
5/5

A Few Recent New York NY Team Building Events.


Everyday Health Murder Mystery Activity in Morristown, New Jersey It seemed like an ordinary cocktail party but then suddenly there was a fight. A woman was breaking apart cigars but the company CEO had the last one. He rushed from the room. The room quieted again as the crowd from Everyday Health laughed and joked. They stood in line for drinks from a busy ...
FPC National Ace Race Golf Team Building in New York, NY You have to love golf team building in New York, NY. FPC National was holding their annual owner's conference in a meeting room overlooking Times Square in New York, NY. This company is a nationwide leader in executive search and recruiting for executive and management jobs. In addition, FPC is also a trusted partner whose ...
Employee Give-Back Day for Optum360 in New York, NY April 14th was employee give-back day at Optum360, a subsidiary of United Health Care as they conducted a cross-country, multi-location, simultaneous event. In Westbury, New York, selected employees were dressed in colorful team gear and had clearly been prepped in advance for an enthusiastic, high-energy day. Four teams of eight employees were ready to tackle ...