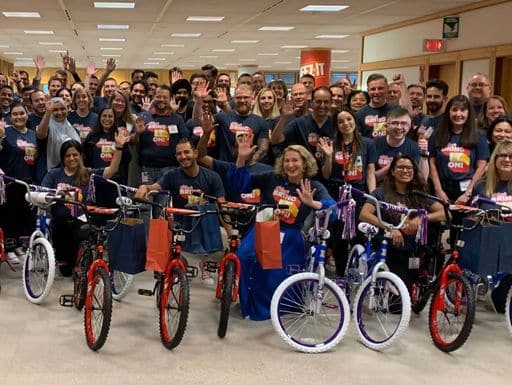 The global team of Kellogg held a team building activity as a supplement to days full of meetings and development. Energy and enthusiasm filled the town of Battle Creek, Michigan.
Staff flew in from as far as India. People joined to reignite a new mindset in both their work and company goals. Our instructor, Chris Springer, enjoyed the nostalgia of their office. Art and decor were reminiscent of childhood cereals and snacks. Posters and accents with pictures of Frosted Flakes®, Pops®, and Cheezits®. Each alluded to and mirrored the group's energy level. To be frank, I'm quite jealous. Some staff even had customized brand shoes. Special stripes and colors decorated their sneakers.(Umm… can I have one in a size 7? Please and thank you.) All in all, things spilled over and burst into our activity. Teams answered their clues and assembled wonderful, brand-new bikes. Kellogg ended with a donation to the local YMCA.
Kellogg does more than Cereal
Battle Creek, Michigan isn't a large town by any means. Kellogg's headquarters has been located there for more than one hundred years. They're driven to create a good and just world where all are fed and fulfilled. Each day is a new opportunity for its staff to share their purpose of promise and possibilities. Furthering new possibilities, Kellogg strives for more sustainable and inclusive practices. They care about the impact their company makes globally.