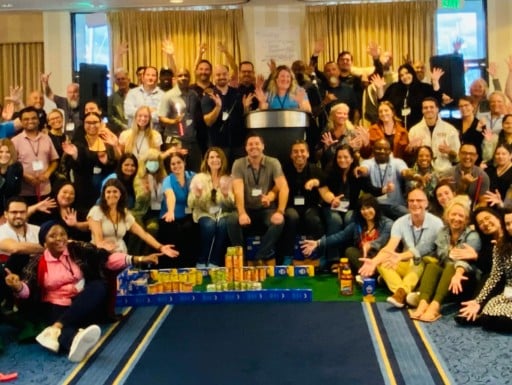 4Liberty rallied its international team for a dynamic Ace Race® team building event in San Diego, CA. Concluding a two-day summit, the event was characterized by the team's dedication to constructing a mini golf course. For what reason? All in the name of charity! This spirited activity resulted in a generous donation of 850 pounds of non-perishable food to the San Diego Food Bank.
4Liberty, a top services firm, manages major energy and infrastructure projects across North America. The firm helps utilities meet new customer needs, comply with regulations, and achieve sustainability goals. It also supports the development of modern infrastructure to boost security, connectivity, and ensure environmental and social equity for various clients.
4Liberty Energizes Team Spirit and Feeds the Community with Ace Race® Event in San Diego, California
Despite the summit's demanding schedule, 4Liberty's team remained highly engaged during the Ace Race® event, showcasing their unwavering commitment to community service. The participants' collaborative spirit was evident as they constructed a creative mini golf course from non-perishable food items. The activity not only strengthened team bonds but also highlighted the company's core values of sustainability and social responsibility.
The team spirit at the event translated into tangible impact. 4Liberty donated the amassed 850 pounds of food to the San Diego Food Bank. All in all, providing a much-needed contribution in a county where over a million residents face nutritional insecurity. This significant donation made a particular difference for the 284,500 children in the community affected by food scarcity, underlining the firm's commitment to nurturing the communities in which they operate.
We extend our deepest gratitude to 4Liberty for their significant contribution and to the San Diego Food Bank for their vital role in combating hunger in San Diego County. The commitment to making a positive impact on the local community is truly commendable.
Inspire your team and make a meaningful difference in your community with our Ace Race® team building event in San Diego, CA. Contact us to create lasting memories and significant community impact.