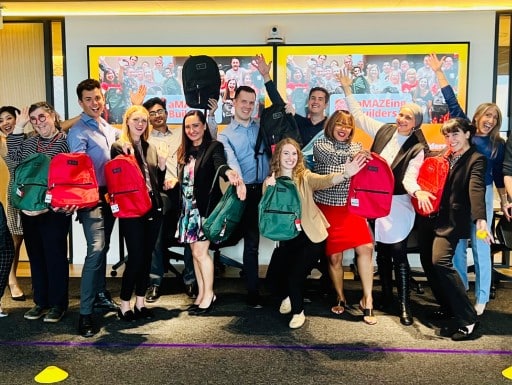 Davis Wright Tremaine LLP, a distinguished business and litigation law firm, recently hosted an Amazing Builders event in Seattle, WA. The occasion brought together the firm's new junior associates to reinforce their dedication to pro bono work and social impact. Additionally, it provided the perfect opportunity for team bonding. The event supported the Children's Home Society of Washington, marking a day filled with strategic learning, laughter, and community giving.
Established in 1944, Davis Wright Tremaine LLP is a prominent American law firm. Davis Wright Tremaine, with its headquarters in Seattle, Washington, employs over 500 lawyers across the United States. The firm has a reputation for delivering innovative legal solutions and demonstrating a strong commitment to community service. All in all, they're dedicated to making a positive social impact and delivering exceptional service to its clients.
Davis Wright Tremaine's New Junior Associates Forge Bonds and Strategy at Amazing Builders Event in Seattle, Washington
The Amazing Builders event, designed for Davis Wright Tremaine's new cohort of junior associates, reflected the firm's ethos of skillful strategy and impactful service. Tasked with navigating an indoor obstacle course to collect items for charity, these associates showcased their ability to strategize effectively. The fun-filled challenges not only facilitated bonding but also encouraged innovative thinking—a crucial skill in the legal world.
Embracing the firm's commitment to societal contribution, the event culminated with the new associates assembling and donating twelve backpacks. These packs were brimming with school supplies and donated to the Children's Home Society of Washington. This gesture of goodwill exemplified the spirit of the firm's pro bono and social responsibility initiatives, leaving a lasting impression of joy and community engagement on both the givers and recipients.
Our heartfelt thanks go to Davis Wright Tremaine's new junior associates for their enthusiastic participation and the Children's Home Society of Washington for their unwavering dedication to children's welfare. Your combined efforts have equipped young minds for a brighter educational journey.
Encourage team building and strategic thinking among your new associates while making a positive impact on your community with our Amazing Builders event. Reach out to us to plan a memorable and meaningful team building event in Seattle, WA.