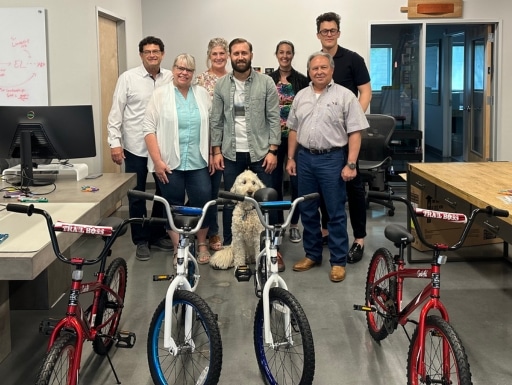 Blank Page LLC, a family owned business specializing in bespoke employee experiences, added a Build-A-Bike® team building event to their end-of-month gathering. The event took place in Georgetown and involved nine participants. Fortunately for the children of Georgetown, the Texas Baptist Children's Home was there to receive the donated bikes on their behalf.
Blank Page LLC is committed to empowering organizations to prioritize their people. They are dedicated to creating the conditions that allow employees to excel, focusing on outstanding communication and quality decision making. Blank Page believes that the investment in the employee experience should parallel that of customer experience. They offer tailor-made experiences, from one-day workshops to highly customized programs, designed to forge real connections and deliver tangible results.
Blank Page LLC Employees Come Together for Build-A-Bike® Event near Austin, Texas
At the end of every month, Blank Page has a end-of-month gathering. At this once a month meeting, they allow themselves to connect and collaborate outside the usual work duties. The Build-A-Bike® event was a perfect fit for them. It underpinned the company's belief in the power of well-designed, meaningful experiences.
During the event, the small group of 9 participants worked together to build bikes, emphasizing the importance of teamwork and problem-solving. In order to complete the bicycles, the team had to realize that effective collaboration leads to better outcomes. The group completed the bikes without issue, and then they donated them to the Texas Baptist Children's Home. This act of generosity further solidified the team's commitment to making a positive impact on the community.
We extend our heartfelt thanks to Blank Page LLC for their participation in the Build-A-Bike® event and their generous donation. We also express our gratitude to Texas Baptist Children's Home for the vital role they play in our community.
Is your team looking for a unique, rewarding team-building experience? Check out all of our team building events near Austin, TX!