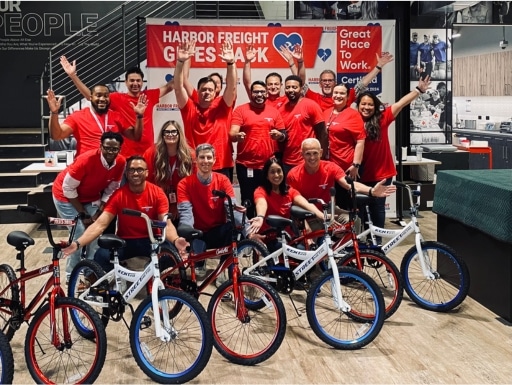 Harbor Freight, a retail company renowned for its comprehensive range of tools and equipment, added a Build-A-Bike® team building event to top off a long day. Despite a busy schedule, 18 enthusiastic participants from the company rallied together in Calabasas, CA to build bikes for charity.
Harbor Freight is a widely respected retail company, offering a vast assortment of tools, equipment, and other related products. They are acclaimed for their affordable pricing and extensive offerings, catering to the needs of DIY enthusiasts, homeowners, and professionals. With multiple stores across the United States and a robust online store, Harbor Freight stands as a convenient shopping destination for quality and value.
Harbor Freight Team Embarks on Build-A-Bike® Journey near Los Angeles, California
The team from Harbor Freight began their day at 7:45 am. Later, they had to drive an hour to one of their locations. Then they had to drive another hour to arrive at the Build-A-Bike® location. By then, it was 4:30 pm, but that didn't stop the team from showing exceptional spirit and energy. Their enthusiasm hadn't waned in the slightest!
The result of their collective effort? A set of newly assembled bikes, ready to donate to the Boys and Girls Club of Conejo Valley! The spirit of the Harbor Freight team and their dedication to giving back despite a busy day was inspiring. The Boys and Girls Club was thrilled to receive the bike donation, a tangible testament to Harbor Freight's commitment to the community.
A massive thank you to Harbor Freight for their dedication and charitable spirit during the Build-A-Bike® event. We also express our gratitude to the Boys & Girls Club of Conejo Valley for their relentless efforts to serve the community.
Planning a team building activity? Transform it into a memorable and charitable experience with one of our team building events near Los Angeles, CA!