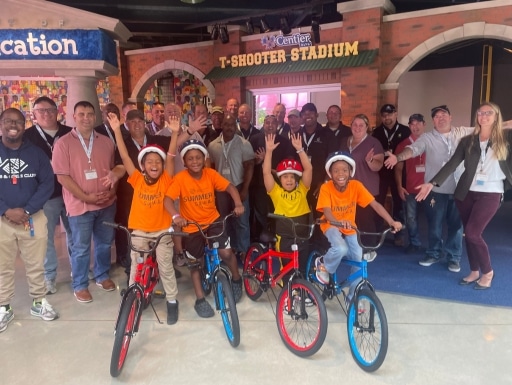 BP conducted a Build-A-Bike® event in Whiting, IN, marking their third gathering with the leadership group from the BP Whiting Refinery. The event began on a formal note after a day of training. As the evening progressed, however, the team loosened up, transforming the occasion into a lively team-building exercise.
BP is a multinational oil and gas company, one of the world's seven oil and gas "supermajors." They engage in the exploration, production, refining, distribution, and marketing of energy products. They operate across various sectors of the energy industry.
Build-A-Bike® Event Ignites Team Spirit at BP in Whiting, Indiana
Held at the Mascot Hall of Fame in Whiting, the Build-A-Bike® event began on a more serious note. The leadership team was tired after an entire day of training. However, the atmosphere gradually shifted as the open bar and fun team-building activities took center stage. The BP Whiting Refinery leadership group began to loosen up, allowing for creativity, collaboration, and enjoyment to flow.
The event's impact went beyond corporate bonding, as BP demonstrated its commitment to community support by partnering with the Boys and Girls Club. Through the Build-A-Bike® activity, they were able to create not only a sense of team unity but also a valuable contribution to a cause that enriches the lives of children and families in their community.
We extend our sincere gratitude to BP and the leadership team at the Whiting Refinery for embracing the Build-A-Bike® experience and to the Boys and Girls Club for their ongoing dedication to making a positive difference. BP's enthusiasm for team building and community engagement sets an excellent example for others to follow.
Is your team ready to combine fun, collaboration, and social responsibility? Create lasting connections with one of our team building games in Whiting, IN!