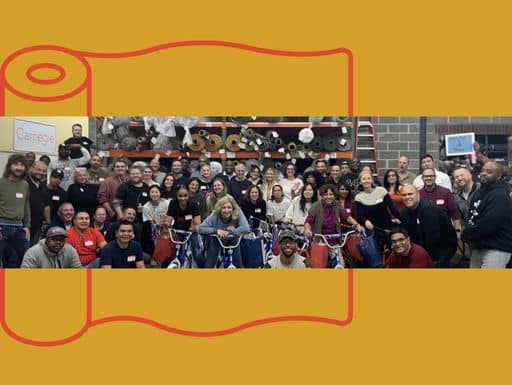 Recently, The Leader's Institute® arrived at Carnegie Fabrics in Rockville Centre, NY for a Build-A-Bike® event. Carnegie prides their company and its work to create environmentally friendly and innovative designs. For over 70 years, its worked to combine great aesthetics and responsible delivery. They continue to follow their founder's belief to "do good, never settle, be better." Ultimately, The Leader's Institute® was happy to bring camaraderie and competitive fun to their event.
Not Your Average Team Building Activity with Carnegie Fabrics
Instructor, Sue Schoenfeld, got the group warmed up with a variety of team activities and challenges. The participants worked together with partners and then teams. The room was loud with laughter and cheers as everyone encouraged each other to complete their tasks. Susan appreciated the flexibility of everyone in attendance.
Things moved on to even more challenging activities that required teamwork and rearranging. Everyone had to move inside and Sue got a special look at everything Carnegie does. Most teams assumed these problem-solving tasks would be easy. Not. There was some frustration, a lot of contemplation, and obvious fun.
At the end of the day, they met the overall objective and built ten children's bikes. While we can coordinate charities for events, Carnegie hand-picked theirs and made a wonderful donation to the local community.