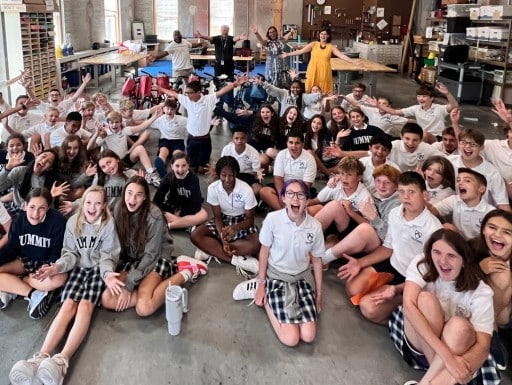 The Summit Country Day School in Cincinnati, Ohio organized a Build-A-Bike® team-building event with 58 participants. The event was a part of the school's "Magnified Giving" campaign. It's aim was to enrich the school culture while engaging students in charitable giving. The students relished the experience, especially as it served a noble cause—donating bikes to NewPath, a local orphanage.
The Summit Country Day School, located in Cincinnati, is a co-educational, Catholic, private, independent, and college-preparatory institution. Catering to students from 18 months to high school age, The Summit is renowned for its academic rigor and character-based leadership training. With a focus on spiritual growth and physical, social, and emotional wellness, the school offers a holistic education that nurtures each child's God-given talents and fosters strong relationships.
The Summit Country Day School Students Build Bikes for Charity in Cincinnati, Ohio
The Build-A-Bike® event seamlessly aligned with The Summit's mission of developing leaders of character. Students were organized into teams and given the task to build bicycles in a competitive yet collaborative environment. Not only did the event strengthen their teamwork and communication skills, but it also instilled in them the values of empathy and community service. The excitement was palpable as teams raced to complete their bikes, embodying the school's spirit of character-based leadership in action.
The charitable dimension of this event was heartwarming. NewPath, a local orphanage that provides a safe haven for children in need, received the donated bicycles. The initiative was a part of The Summit's "Magnified Giving" campaign. The campaign aimed at making philanthropy an integral part of their educational experience. Students felt an immense sense of fulfillment in being able to contribute to the orphanage, thereby creating a lasting impact on their community. The event became more than just a game—it was a life lesson in empathy, kindness, and the power of collective action.
We extend a heartfelt thank you to The Summit Country Day School for their generous contribution to NewPath. The donation of bikes will indeed make a significant difference in the lives of the children at the orphanage.
Looking to instill the virtues of teamwork and charity in your students? Experience the joy of giving and team building with one of our Build-A-Bike® events in Cincinnati, OH!