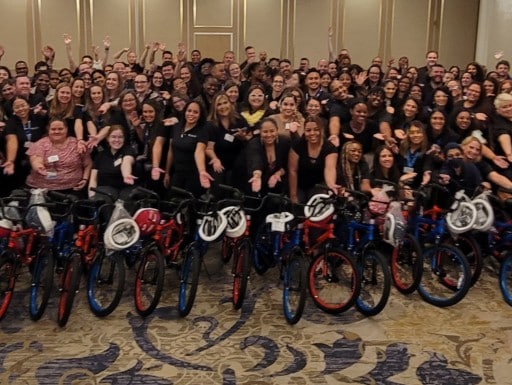 Esperanza Cyber Charter School (ECCS) gathered in Philadelphia, Pennsylvania, for a Build-A-Bike® event involving 200 of its educators. The school, which predominantly serves underprivileged and at-risk students, aimed to foster team spirit among its remote teaching staff. All in all, the event served as a platform to meet, bond, and contribute to a charitable cause.
Esperanza Cyber Charter School is an educational institution that prepares students from Kindergarten through grade 12 for the challenges of a technologically sophisticated world. ECCS offers a unique blend of online and in-person educational experiences, particularly aimed at underserved and at-risk students. With an individualized learning plan for each student, the school provides various curriculum choices and extensive support to put these students on a pathway to post-secondary success.
Esperanza Cyber Charter School Educators Assemble for Build-A-Bike® Event in Philadelphia, Pennsylvania
For ECCS, the Build-A-Bike® event was an occasion to bring together a team of remote educators. Though dispersed, these educators unite in their mission to serve at-risk students. For one, the gathering served to boost the morale of these dedicated professionals. Additionally, it offered a tactile way to demonstrate their shared purpose. All in all, the event emphasized the importance of collective effort and teamwork in education.
While the educators primarily focused on team-building at the event, they assembled bikes destined for a charitable cause. This added layer of community service brought home the school's underlying mission to serve and uplift. The sense of accomplishment in completing the bikes was only surpassed by the awareness that these bikes would make a significant difference in someone's life, resonating with ECCS's core values of contributing to the betterment of society.
We are deeply thankful to Esperanza Cyber Charter School for participating in our Build-A-Bike® event and for their ongoing commitment to enriching both their educational community and society at large.
Is your team spread out and working remotely? Bring them together for a day of meaningful interaction with one of our team building events in Philadelphia, Pennsylvania. Get in touch to learn more!