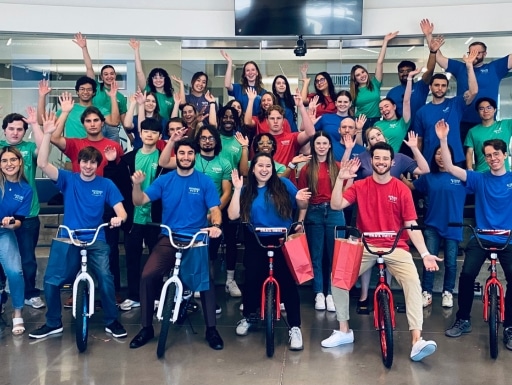 DriveTime, a leading national used car dealership, recently held a team-building event for their interns. The interns had just spent a week learning the ins and outs of the business. Despite their exhaustion, they turned it around for a successful Build-A-Bike® team building event in Phoenix, AZ. DriveTIme later donated the finished bikes to Saint Vincent De Paul, a charity serving the Phoenix area.
DriveTime is one of the nation's largest used car dealerships. They have over 120 locations across the country. They're known for their customer-focused approach, offering in-house financing, no-haggle pricing, and a broad selection of vehicles. Customers can complete a car purchase within just 15 minutes, with real online down payments and personalized financing options, regardless of credit type.
DriveTime Interns Build Bikes for Charity in Phoenix, Arizona
DriveTime's team-building event began with a group of interns fresh from an intensive week of learning about the company. Although initially tired, the participants soon got into the spirit of the event, working together to assemble bikes and having a wonderful time in the process.
The highlight of the event was the donation of the assembled bikes to Saint Vincent De Paul, a charity serving over 7,000 meals a day to people in need in the Phoenix area. All in all, the interns were thrilled to learn that their hard work would benefit deserving families.
We commend DriveTime and their interns for their enthusiastic participation and their generous donation to Saint Vincent De Paul. Additionally, their commitment to team-building and community service has made a meaningful impact in the lives of Phoenix families in need.
Want to turn your training into a fun event that benefits the local community? Consider trying one of our engaging team building games in Phoenix, AZ!