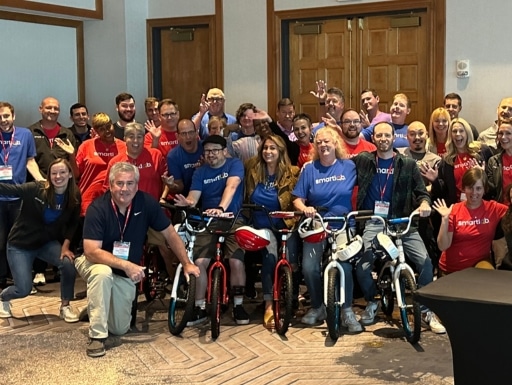 Creative Learning Systems (CLS) engaged in a Build-A-Bike® team building event near Denver, CO. The lively event, which included fifty participants, also coincided with their first-ever anniversary gift giving celebration. After the celebration, the team quickly assembled bicycles and donated them to the local YMCA.
Since 1987, Creative Learning Systems has dedicated itself to the transformation of conventional learning settings into project-based learning experiences. They partner with innovative school leaders nationwide to implement learning solutions that enhance students' problem-solving capabilities through active, engaged, and social learning. Their mission is to foster the leaders of tomorrow, equipped and prepared to tackle the evolving challenges of our world.
Creative Learning Systems Embraces Team Building with Build-A-Bike® Event near Denver, Colorado
The event offered an opportunity for the team at Creative Learning Systems to engage in a fun and productive team-building activity. Participants quickly embraced the challenge, completing tasks at an impressive speed. The energy in the room was palpable, reflecting the same enthusiasm CLS brings to the field of education technology.
The highlight of the event was undoubtedly the surprise distribution of anniversary gifts, a first in the company's history. This gesture set a celebratory tone for the day and symbolized CLS's appreciation for its dedicated team. Following the team-building activities, bicycles assembled by the group were donated to YMCA, demonstrating the company's commitment to giving back to the community.
We extend our sincere thanks to Creative Learning Systems for their active participation in the event and their generous donation to the YMCA. Their enthusiasm and swift problem-solving were truly commendable.
Looking to celebrate a company anniversary in a unique way? Consider trying one of our many engaging team building games in Denver, CO!